Finding the best rum for mojitos needs some thought with so many white rums on the market. White rums range in strength, age, and infused flavours, so the perfect spirit for your precious mojito needs to be well-balanced and refined.
A refreshing mojito is nothing without that perfect rum. White rum adds the perfect balance of sweet, mild fruitiness to your mojito while complementing this citrusy, tangy drink with its soft tones of vanilla and oak flavours.
What Is White Rum?
White rum is a clear spirit made from distilled molasses (the sweet, dark syrup that comes from refined sugarcane). White rum is typically the preferred spirit of several iconic tropical cocktails, such as Daiquiris, Pina Coladas, and the exotic Mojito.
What Should A Good Mojito Taste Like?
The ultimate mojito should be a refreshing mix of citrusy lime balanced with sugar and a revitalising dose of mint. Of course, let's not forget that moreish punch of white rum to bolster this incredible cocktail.

Best Rums For Mojitos
I've selected 8 of the best rums for mojitos so that when you make this classic Caribbean cocktail, you'll get the taste of paradise with every single sip.
1. Havana Club 3 Year Old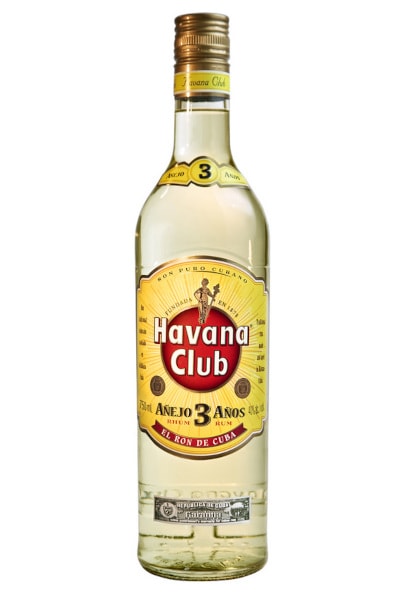 Overview
Distiller: Havana Club
ABV: 40% (80 Proof)
Country: Cuba
Colour: Clear
Review
Delightfully smooth rum produced by a joint-venture between Peron and state-owned Cuba Ron, originating from a family-owned distillery in Cardenas, Cuba, was introduced to the public in 1934.
Havana Cuba 3 Year Old is distilled from local sugarcane molasses and aged in ex-bourbon casks, contributing to its distinct light honey yellow hue.
A well-balanced palate combination of green sugarcane notes with a sweet fruity tone, flavoured with a hint of citrus, leaves you feeling refreshed.
This classic silver rum is smooth and perfect for that refreshing mojito with just the right amount of punch. This rum is light and enjoyable, with vanilla, oak, and sugarcane molasses flavours for those relaxing afternoon sundowners.
Related Read: Bacardi Carta Blanca vs Havana Club Rum
Pricing & Info
You can check the latest pricing, product information, and order online.
2. Sugar House White Rum
Overview
Distiller: Spirit of Glasgow
ABV: 43% (86 Proof)
Country: Scotland
Colour: Clear
Review
The original producers of Scottish rum from the 17th century inspired the name Sugar House White Rum. This beauty is a handcrafted spirit fermented for a week before being pot distilled.
Premium cane molasses are blended with naturally soft Scottish water and mixed with a special ingredient of a yeast strain that works effectively well with this rum.
The secret to this exquisite rum is that the resulting molasses dunder is put through another distillation process to max the fruity notes.
The rum has an earthy quality that bursts with tropical fruit flavours of pineapple, mango, peach, and banana. A cheeky kick of spicy ginger and white pepper excites your taste buds.
I would say that Sugar House White Rum is a perfect companion to the mojito for its delicate fragrant fruits and distinct spices.
Pricing & Info
You can check the latest pricing, product information, and order online.
3. El Dorado 3 Year Old White Rum
Overview
Distiller: El Dorado
ABV: 40% (80 Proof)
Country: Guyana
Colour: Clear
Review
El Dorado 3 year is made in Guyana on the banks of the Demerara River. This distillery is the only one that operates with its original 18th and 19th-century stills, still using both wooden pots and wooden Coffey.
Made with luscious Demerara sugar, this medium-bodied rum aged three years in ex-bourbon casks and double filtered through natural charcoal to remove the colour.
There is a rich presence of coconut mixed with notes of vanilla and citrus. A well balanced medium body with notes of dark brown sugar and a hint of toffee.
Overall, this El Dorado rum will take your mojito to another level, giving it a buttery texture for a potent cocktail. Ideal for party animals and night owls.
Pricing & Info
You can check the latest pricing, product information, and order online.
4. Montanya Platino Rum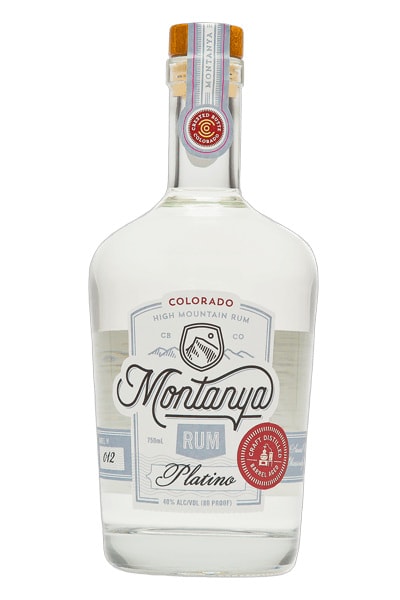 Overview
Distiller: Montanya
ABV: 40% (80 Proof)
Country: America
Colour: Clear
Review
Award-winning Colorado rum from Montanya uses Louisiana's finest quality grown sugarcane product. They pride themselves on their high-altitude and eco-friendly process.
American sugarcane juice fermented with Champaign yeast and fire distilled in copper pots. This rum is then aged in American white oak barrels that previously held Colorado whisky.
Thanks to a smidge of Colorado honey, the open is smooth and sweet. It has a spicy finish of black pepper, with roasted coffee bean and vanilla custard flavours.
The spicy infusion in the rum due to the fire distillation gives it a unique taste and flair to the mojitos. If you are looking for extra spice, then this rum is just the one.
Pricing & Info
You can check the latest pricing, product information, and order online.
5. Plantation 3 Stars Silver Rum
Overview
Distiller: Plantation
ABV: 41.2% (82.4 Proof)
Country: Caribbean
Colour: Clear
Review
Produced in the Caribbean, this rum is expertly blended in honour of the three primary terroirs, Trinidad, Barbados, and Jamaica. Plantation 3 Star is a sophisticated blend of each island's distinct styles.
A mix of Barbados and Trinidad fermented molasses sit for 72 hours. Jamaica molasses ferment for two weeks, then distilled in twin column and pot stills.
It is a finely balanced mix of un-aged Barbados with the addition of 2-3-year-old Trinidad and a trace of 10-year-old Jamaica, cold filtered to appear light.
I love the subtle spices and floral notes, plus sweeter sugar cane and vanilla flavours with a cheeky hint of dark chocolate.
Plantation 3 Stars Silver is a full-bodied rum with character. It is particularly well suited to your mojito, so it can highlight the zesty tang of citrus flavours. As a side note, Plantation aged rum made it to my article 10 Best Rums For A Rum & Coke.
Pricing & Info
You can check the latest pricing, product information, and order online.
6. Rivers Royal Grenadian Rum
Overview
Distiller: River Antoine
ABV: 69% (138 Proof)
Country: Grenada
Colour: Clear
Review
Rivers Royal Grenadian Rum is a white rum elegantly distilled from local hand-cut sugar canes. The production of this rum has barely changed in the last 230 years since the distillery was established in 1785. The Sugar canes are crushed by mill powered 18th-century water wheel.
The fermentation of the sugar cane juices can be done for up to 10 days in the open air using only naturally occurring wild yeast. After which, it is distilled on wood fire using the estate two copper pot stills and bottled by hand.
Initially intense on the open, but soon sweet grassy flavours loiter and burst with orange peel zest, leaving traces of a nutty taste and a hint of chilly chocolate tones.
Overall, although it has an initial kick, Rivers Royal Grenadian Rum brings a mix of flavours that complement the tangy zest of the classic mojito.
Pricing & Info
You can check the latest pricing, product information, and order online.
7. J Wray And Nephew White Overproof Rum
Overview
Distiller: J Wray And Nephew
ABV: 63% (126 Proof)
Country: Jamaica
Colour: Clear
Review
Established in 1825 by John Wray in Kingston, it was the oldest company in Jamaica and the largest exporter in the Caribbean. After the death of the then sole proprietor Charles James Ward, it has changed hands several times before its latest acquisition by the Campari group.
Sugarcane molasses and proprietary house yeast are fermented then distilled in a combination of column and pot stills. The rum is then barreled with ¼ to ½ pound toasted American oak chips. Wow!
I found this to be a smooth white rum on the palate, with lots of sweet molasses and spice. It soon reveals lighter fruity notes of coconut and banana, plus hints of wood.
J Wray And Nephew White Overproof Rum will add the heart and soul of Jamaica to any mojito. The ice and club soda amplifies the fruity notes and makes it a delightful sipping cocktail.
Pricing & Info
You can check the latest pricing, product information, and order online.
8. Bacardi Carta Blanca
Overview
Distiller: Bacardi
ABV: 37.5% (75 Proof)
Country: Puerto Rico
Colour: Clear
Review
Bacardi was founded in Cuba 160 years ago by Don Facundo Bacardi Masso when he revolutionised the rum-making process. Bacardi Carta Blanca has become the defacto rum for well-balanced cocktails as it doesn't dominate or disappear.
High-grade molasses from all over the world is combined with patented yeast. Bacardi Carta Blanca is fermented in closed fermentation tanks for 30 hours before being distilled through a beer still.
On the palate, this soulful rum gives distinctive hints of tropical fruits dark brown sugar mixed with discreet spices, leaving a lingering yet soft vanilla spice.
Overall, this refreshingly sweet floral blend mixes well to bring out the mojito's fresh mint aroma and tart lime components.
And some trivia…A colony of bats was discovered in the distillery and recognised as good fortune, giving rise to the bat emblem that decorates the label.
Pricing & Info
You can check the latest pricing, product information, and order online.

Andrew's Top Pick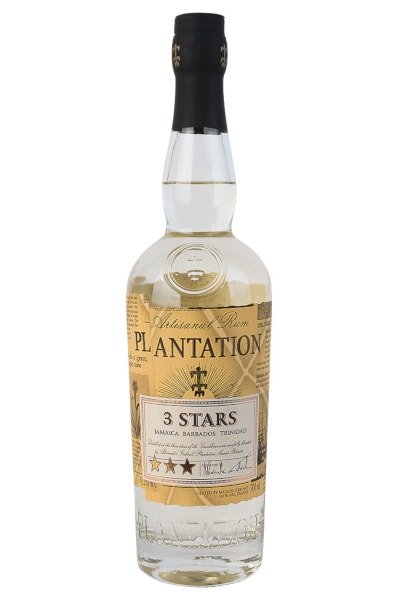 Plantations 3 Stars Silver Rum
Plantations 3 Stars Silver Rum is my top pick for the best rum for a mojito. The sugar cane, vanilla, dark chocolate and spices really shine through the citrus and soda of the classic mojito.
The Classic Mojito Recipe
Classic Mojito
The Mojito is one of the most iconic rum cocktails of all time. A classic zesty-minty affair that is incredibly simple to make.
Video Guide
Check out this great step-by-step video guide! Please show Steve The Bartender some love by liking/subscribing to his channel!
Ingredients
Ice (crushed or cubes)
50ml/2oz white rum
Juice of one lime, freshly squeezed
5-6 mint leaves
25ml simple syrup **
Soda water
Method
Add ice, rum, lime juice and sugar syrup into a tall glass.
Break up the mint leaves and push it into the ice
Add a couple of lime wedges (from the squeezes lime)
Top up with soda water and stir
Garnish with some extra mint.
**Simple Syrup – slowly heat 2 parts of sugar to 1 part water until the sugar dissolves then allow to cool. Keep in the fridge for up to a month!
Conclusion
Packed with sweet flavours of molasses, vanilla, zest, and even chocolate, the best rums for a mojito will make a mouthwatering addition to your well-crafted Caribbean cocktail.
When I was travelling in Miami, I discovered those cheeky Americans add a delicious splash of fresh mango juice for (yes, you guessed it) a mango mojito. Very nice indeed; not sure it counts towards one of your five a day, but one can always hope.
Don't forget to check out my article on 10 Best Spiced Rums With A Kick to take your rum collection to the next level.

Further Reading
Below are some additional articles from The Drinks Geek blog. We write articles on several fascinating areas of drinks, including different brands, drink types, cocktail recipes and more.