Although white rum does not have the same flavour complexity as its dark rum cousin, there are some differences. I've decided to compare Bacardi Carta Blanca vs Havana Club Rum as the tropical nuances of Cuba live in both of these rums.
The best white rum is often the mixer of choice for cocktails and offers body and depth while adding a hint of freshness to cocktails that make both Bacardi Carta Blanca and Havana Club Rum worthy white rums to be added to your booze trolley.

Bacardi Carta Blanca vs Havana Club Rum
Both Bacardi Carta Blanca and Havana Club Rum are crafted by distillers passionate about their craft, ensuring an authentic Cuban white rum experience. Let's compare.
1. Bacardi Carta Blanca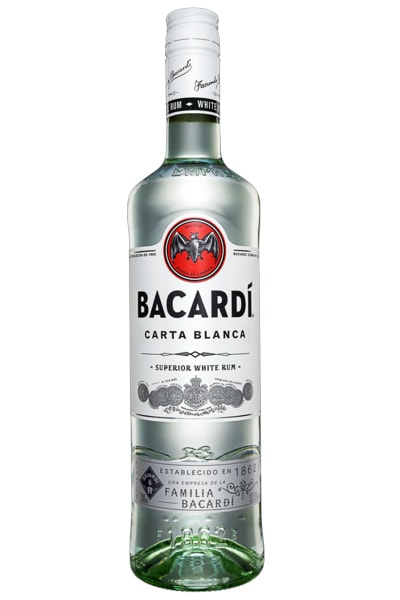 Overview
Distiller: Bacardi
ABV: 37.5% (75 Proof)
Country: Puerto Rico (Cuba originally)
Colour: Clear
Review
Bacardi Cart Blanca is made from fermented high-quality sugar cane sourced from around the world with a mix of patented house yeast.
The blend of heavy and light-bodied rums is aged in American white oak barrels for a duration of twelve to twenty-four months before being filtered through a secret filtration blend of charcoal to create one of the best rums for a mojito.
On The Nose
On the nose, it offers wafts of fresh citrus, and hints of fruity nuances mingle in the air with nutty traces and the possibility of spice.
On The Palate
On the palate, the playful sweetness of muscovado sugar lures your taste buds to a burst of tropical fruits laced with zesty citrus and inobtrusive spices of cracked black pepper with a finish of smooth luxuriant vanilla.
Best Served
I recommend it makes a fresh citrusy base for a refreshing mojito muddled with mint leaves. It does not disappear into the fruitiness of a cocktail and not dominating the taste either.
Pricing & Info
You can check the latest pricing, product information, and order online.
2. Havana Club 3 Year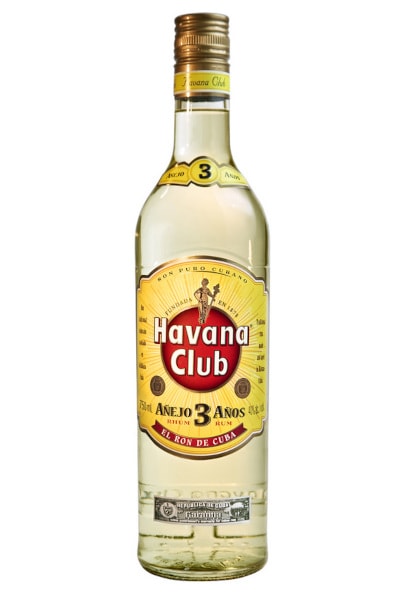 Overview
Distiller: Havana Club
ABV: 40% (80 Proof)
Country: Cuba
Colour: Clear
Review
Havana Club 3 Year is a molasses-based rum made using locally sourced sugar cane. The fermentation and distilling of the rum are completed using a two-column continuous method.
Also Read: 7 Sensational Jamaican Rums
Once ready, the rum is stored and aged in ex-bourbon casks for three years, which lends to the light straw hue before being bottled with a 40% ABV (80 proof).
On the Nose
An intense boozy aroma mingles with toasted coconut, and sweet notes of muscovado sugar greet the nose with slight wafts of herbal wine mixed with tropical hints of pineapple and ginger.
On The Palate
The palate opens to a smooth mouthfeel with a sweet, honeyed note. Next, a caress of fruity notes from pineapple and pear tickles the tastebuds playfully before a tang of ginger and black pepper spices follow, to be finished off with laces of mellow oak.
Best Served
Havana Club 3 Year is the perfect accompaniment to a Pina Colada cocktail. Pineapple juice and coconut milk accentuate the rum's flavours and make a mouth-watering refresher for a hot tropical night of salsa dancing.
Pricing & Info
You can check the latest pricing, product information, and order online.

Andrew's Top Pick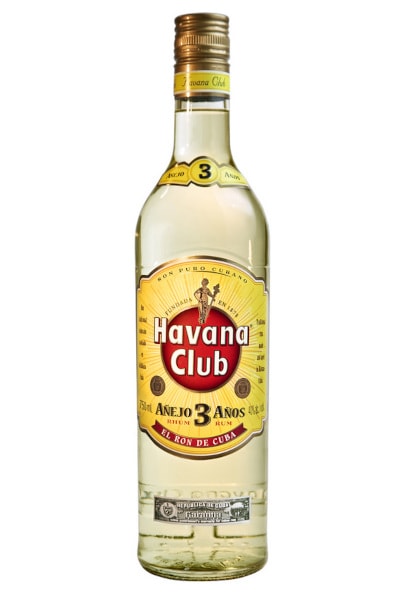 Havana Club 3 Year
I have to say, Havana Club 3 Year wins by a whisker, thanks to its flavours of tropical fruit, muscovado sugar, and that cheeky white rum kick on the spiced finish.
Brand Comparison
Young versus old, these two icons of rum production have travelled the world to bring us to authentic white rum.
Bacardi
Bacardi was the brainchild of Don Facundo Bacardi Masso. He started a small distillery in Havana, Cuba, in 1862 that revolutionised how rum was made and later moved operations to Puerto Rico.
Their brand is dipped in symbolism and prophecy around the bats found in the distillery's rafters that are said to bring good fortune. The planted palm tree, affectionately known as El Coco, has lasted through decades of disasters, which is seen as a good omen for the Bacardi House.
Havana Club
Originally a family-owned business started in 1934, the craft of distilling first-grade rum became a culture handed down from Maestro to Maestro.
In 1993 a partnership between the conglomerate Pernod Ricard and the state-owned Corporacion Cuba Ron was formed to ensure the distribution of Havana Club rum worldwide.
Conclusion
Rum is the basis of any good cocktail, so these sweet rums make delicious additions to your favourite sundowner. Both are rums made in the South Americas, but each has its own flair.
Also Read: 8 Things To Mix With Rum Besides Coke
The symphony of flavours offers a different tune for each. Still, in the end, the tropical flavours of Puerto Rico shine from both these light-bodied rums for a pleasurable drinking experience.

Further Reading
Below are some additional articles from The Drinks Geek blog. We write articles on several fascinating areas of drinks, including different brands, drink types, cocktail recipes and more.