Rum is now one of the most popular alcoholic beverages in the world, alongside vodka and whisky. The best spiced rum brands combine enticing spices such as nutmeg, cinnamon, cardamom, vanilla and even tobacco for a distinctive aromatic flavour profile.
…And A Bottle Of Rum – A Spicy History
Rum has a long and winding history dating back as far as the 7th century, but no clear single point of origin. What we recognise today as spiced rum undoubtedly began in the Caribbean.
Plantation workers discovered that the molasses, which were a by-product of sugar production, could be fermented into alcohol. The addition of spices, roots, and even bark are what give spiced rums a unique and stimulating flavour!
The most commonly used spices and flavourings in commercial spiced rums are nutmeg, clove, and vanilla, although specialist brands are now diversifying. Today there's a spiced rum for everyone!

Top 10 Best Spiced Rum Brands
We've selected ten of the best spiced rum brands that blend exotic spices with complementing ingredients such as caramel, vanilla, cherry, pineapple and even banana.
1. Two Swallows Cherry & Salted Caramel Rum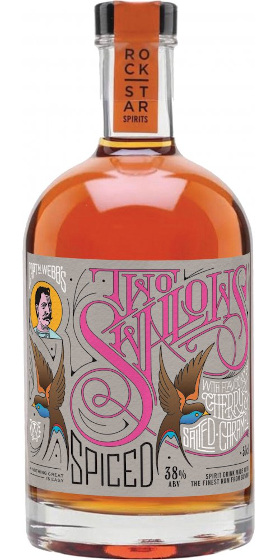 Overview
Distiller: Rockstar Spirits
ABV: 38% (76 Proof)
Country: UK
Colour: Amber
Review
English distiller Rockstar Spirits is known for producing unusual and delicious rums which stray from the 'usual' perception of a spiced rum. Two Swallows Cherry & Salted Caramel is a perfect example of this; infused with maraschino cherries, black cherries, caramel, and a small pinch of rock salt it is sweet and tart by turns.
Taste notes: Opening with delicious notes of ripe cherry that dance on the tongue. Mid-palate soon mellows with a soft ripe-banana undertone which is chased by cinnamon. A glorious salty caramel twang provides a long, smooth finish.
At 38% ABV, this is a reasonably potent spirit with a complexity that makes it perfect for sipping neat over ice.
Presented in a simple bottle with an artistic and stylised label that is instantly recognisable on the shelf.
2. The Kraken Spiced Black Rum
Overview
Distiller: Proximo Spirits
ABV: 40% (80 Proof)
Country: UK
Colour: Dark Brown
Review
Distilled by Proximo Spirits in the UK, The Kraken is undeniably a Caribbean, Navy style rum at heart. Rich, spicy, and slightly bitter this is a sophisticated and mature rum in the Caribbean tradition.
Making use of nutmeg, cinnamon, and charred oak it is easily one of the finest rums being made outside of the Caribbean right now. The scent of molasses dominates the nose of this rum, and that dark sweetness in both smell and taste makes it versatile.
Related: 5 Best Kraken Rums Reviewed
Taste notes: Opens rather sweetly with delicious notes of caramel and brown sugar. Mid-palate reveals a spicy heart of cinnamon, coffee, and cloves. The finish is long with a trail of cracked black pepper and cloves.
Perfect for mixing, cocktails, or drinking over ice, this rum is also beautifully presented in a double-handled bottle with a stylised label depicting the sea monster it was named for. At 40% this is a seriously strong drink worthy of its name!
3. Pull the Pin Spiced Rum
Overview
Distiller: Pull the Pin
ABV: 37.5 (75 Proof)
Country: UK
Colour: Amber
Review
Another UK-based rum (there are more UK distillers of rum than ever before right now) Pull the Pin is based in Devon. Owned and operated by Kerry Carter and veteran Tom Foster, it was named with that history in mind.
This is a brand known for producing incredibly high-quality rums, and their spiced rum is no exception. Unusual combination notes of butterscotch and tobacco stand alongside the traditional tastings of cinnamon and brown sugar.
Taste notes: Opening with the sweetness of butterscotch and brown sugar, plus a nip of spice from cinnamon and vanilla. Mid-palate unveils woody notes combined with fresh tobacco. The finish has a buttery, almost oily characteristic as more butterscotch envelops your tastebuds. Delightful
This 37.% rum is simply presented with a whimsical topper and is best served over ice with a twist of orange peel.
4. Dead Man's Fingers Cornish Spiced Rum
Overview
Distiller: Rum & Crab Shack
ABV: 37.5% (75 Proof)
Country: UK
Colour: Light amber
Review
Distilled by the famous Rum & Crab Shack in St. Ives (which has gained somewhat of cult status for both its food and its rums). Their spiced rum is a perfect example of what makes this brand; hip, high-quality, and beautifully presented.
Despite having exotic notes of saffron, cinnamon, and nutmeg, it is Cornish at heart with a creamy texture and a sweetness which comes from notes of caramel and vanilla.
Taste notes: The opening is a combination of sweet caramel and vanilla combined with spices of nutmeg and cinnamon. Mid-palate reveals the citrus notes of orange and juicy pineapple blended with dried fruits. The finish is long and peppery.
The slightly savoury notes of black pepper and dried reasons give it a complexity that lends itself well to being served simply, just add ice and a twist of orange; at 37.5% it's great for sipping neat. The solid black bottle and gold design make it stunning to look at, too.
5. Ableforth's Rumbullion!
Overview
Distiller: Ableforth
ABV: 42.6% (85.2 Proof)
Country: UK
Colour: Amber
Review
Kentish distiller Ableforth's known for attention to detail, high-quality and unusual but effective flavour combinations. Rumbullion is a perfect example; decadent, sweet, and zesty it is as complex as they come.
Taste notes: The opening is thick and slightly bitter, but this quickly turns the deep sweetness of brown sugar with a hint of creamy vanilla—mid-palate reveals hints of cardamom, bitter orange marmalade. The finish is still spicy, with cloves as well as a touch of cinnamon generating sweetness and heat.
Like all of Ableforth's spirits, this is presented in brown paper wrapping, sealed with twine and black wax. At 42.6% ABV, this rum is incredibly potent, and best served over ice with a touch of lime juice.
6. Plantation Stiggins' Fancy Pineapple Rum
Overview
Distiller: Maison Ferrand
ABV: 40% (80 Proof)
Country: Trinidad and Tobago
Colour: Amber
Review
Plantation rum is produced by Maison Ferrand, found in the Cognac region of France. Known as a quality brand led by passionate rum enthusiasts, Plantation rums never disappoint!
Stiggins' Fancy Pineapple was named for the Reverend Stiggins' from Charles Dickens' "the Pickwick Papers". At 40% this is a robustly spiced rum which has a complex and delicious bouquet.
Taste notes: Opening with ripe banana and juicy pineapple which are met with the bittersweet taste of molasses. Mid-palate becomes slightly smoky with notes of spiced vanilla and woody tones. The finish is smooth, long, and refined.
Presented in a simple, tapering bottle with a bold label, this is a grown-up option with a little kick!
7. Diablesse Clementine Spiced Rum
Overview
Distiller: Diablesse
ABV: 40% (80 Proof)
Country: UK
Colour: Red/Amber
Review
Diablesse may be based in Manchester, but their rum (and heart) has a real Caribbean vibe. As an independent distillery, their aim has always been to bring authentic Caribbean rum to Britain. The general consensus is that they have succeeded!
Taste notes: Sweet and warming, this spiced rum is a perfect example of their unique approach to this classic drink. The nose of this rum is warm and spicy. In fact, it smells like gingerbread. The taste of ginger is much more muted, with toasted cinnamon coming through strongly when the sweet bitterness of molasses and the zest of clementine fades.
While this is technically best served over ice, it makes a surprisingly good addition to fruity cocktails.
8. Cloven Hoof Spiced Rum
Overview
Distiller: Cloven Hoof
ABV: 37.5% (75 Proof)
Country: Guyana & Trinidad
Colour: Deep red/amber
Review
Imported from Guyana & Trinidad, Cloven Hoof rum is the real deal. A blend of Guyanese & Trinidadian rum bases with added spices including cassia, anise, and clove… which is a nice touch given the name. After all, they say that the devil is in the details.
Taste notes: This is spicier than many rums and has an undeniable heat. The undertones of caramelised fruit and brown sugar in both the taste and smell of this rum make it a decadent, almost dessert-like drink with a firm kick.
At 37.5% it's average in strength and should be served over ice with an orange twist to complement its complexity.
9. Bombo 40 Rum Caramel & Banana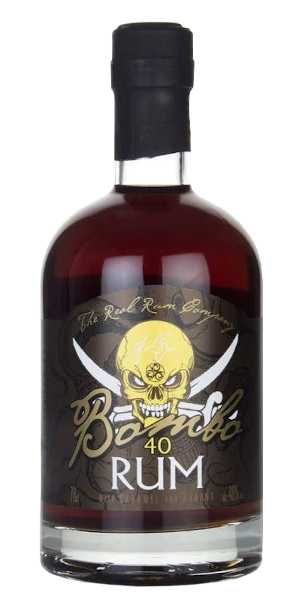 Overview
Distiller: Real Rum Company
ABV: 24% (48 Proof)
Country: UK
Colour: Alburn
Review
Made by the Real Rum Company in Newquay, Cornwall, Bombo rum was blended to mimic one of the oldest rum drinks in the world. Based on an 18th-century recipe, the original Bombo was a blend of golden rum with caramel and spices.
Taste notes: This version sees the inclusion of notes of banana and caramel. With a rich, bittersweet scent and woody, coffee aftertastes, this is an unusual rum which makes a fantastic Cuba Libre, but which can just as easily be served over ice with a dash of lime.
More of a rum liqueur rather than a full-blown rum, but still highly recommended. Presented simply, this dark red rum makes an excellent addition to any side table.
10. Redleg Spiced Rum
Overview
Distiller: Redleg
ABV: 37.5% (75 Proof)
Country: Caribbean
Colour: Amber
Review
Imported from the Caribbean, Redleg rums are undeniably authentic. Made from a blend of the finest Caribbean rums and infused with Jamaica ginger this a warm, zesty, and delicious spiced rum, This drink captures the spirit of the islands, just as the distillery aims to do with its name and motif (both inspired by the Redleg Hermit Crab).
Taste notes: Infused with ginger, vanilla and crisp apple, this is a complicated rum that walks the line between rich and too heavy with grace. The scent has almost savoury notes of black pepper. The classically shaped bottle with its plain black label is simple but attractive.
The label artwork, in particular, is reminiscent of the chalkboard menus that often note restaurant 'specials'; this gives it a casual, indulgent feel. Light and sweet compared to some of the rums on this list, Redleg Spiced Rum is versatile and can be enjoyed straight or as part of a mixed drink.

Conclusion
Each of these rums has a unique flavour profile that is perfect as part of a cocktail, enjoyed with a mixer, or simply sipped neat over ice. With that said, you really cannot go wrong with any of them, so indulge yourself and experiment a little!
Related Article: The Renaissance Of Spiced Rum: A Spice Odyssey