Whether you're a tequila beginner or a dedicated fanatic, you've undoubtedly heard about El Jimador, but which in their range is best for you?
This authentic Mexican distillery prides itself on producing three stunning tequilas from the Blue agave, a Blanco, Reposado and Añejo. Each tequila style varies in taste, texture, and colour, mainly due to ageing.
While all El Jimador tequilas begin as plain silver tequila, how they're aged gives them their uniquely rich and diverse flavour profile. So, El Jimador is a decent option whether you like this Mexican spirit in shots, as a sipping tequila, or as a cocktail mixer.

Best El Jimador Tequilas
El Jimador offers three styles of premium tequila; The Blanco is perfect for shots and cocktails, the Añejo is extra-aged for the ultimate sipping experience, and the versatile Reposado sits in between the two.
1. El Jimador Tequila Blanco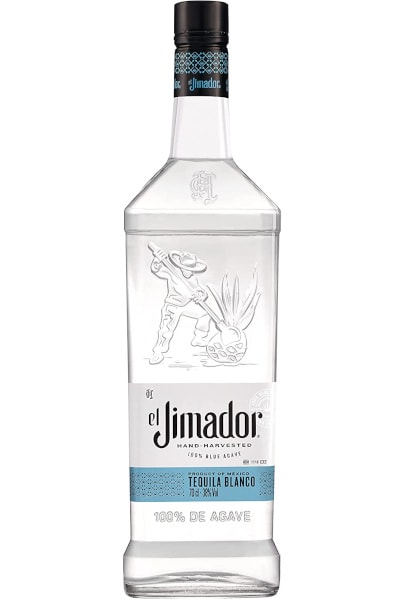 Overview
Distiller: El Jimador
ABV: 38% (76 Proof)
Country: Mexico
Colour: Clear
Review
Blanco is El Jimador's take on silver tequila or tequila that hasn't spent any time ageing in oak barrels. Because of that, this vibrant tequila is fresh and crystal clear.
What truly sets this blanco tequila apart from rival brands is its smoothness. Despite not being aged, El Jimador Blanco is as smooth and easy to drink as another distiller's reposado variant and mixes well.
On The Nose
Like other El Jimador tequilas, Blanco uses only pure Weber blue agave. These notes are present throughout the spirit and are joined on the nose with fresh citrus, vegetal, and light wood aromas.
On The Palate
This citrussy clearness continues on the palette, where this silver tequila is sweet and pine fresh with a peppery aftertaste with hints of grilled vegetal and intense blue agave notes.
Unlike other affordable silver tequila, El Jimador's product has less back-of-the-throat burn than expected.
Best Served
Perfect for tequila shots with a sprinkle of salt and a lime wedge on hand. As a silver tequila, this blanco's vibrancy makes it an ideal addition to a margarita, Paloma, or even a bloody maria.
Pricing & Info
You can check the latest pricing, product information, and order online.
2. El Jimador Tequila Reposado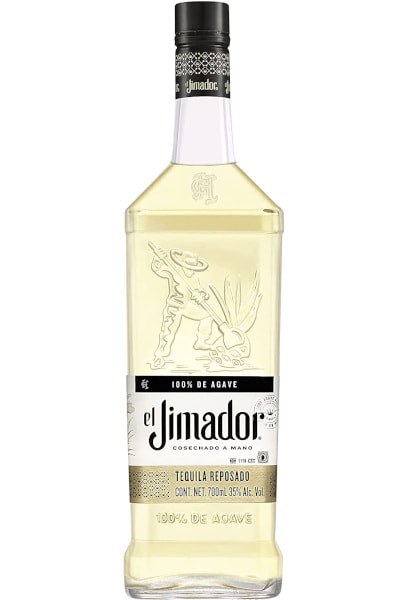 Overview
Distiller: El Jimador
ABV: 35% (70 Proof)
Country: Mexico
Colour: Pale Gold
Review
El Jimador Reposado is the company's take on this classic, best-of-both-worlds tequila style, aged in American oak barrels for two months. It impresses with a smooth golden colour and an even smoother taste.
What sets this 100% blue agave tequila above the competition is the type of oak barrels that El Jimador uses. Specifically, ex-Jack Daniels barrels lend this tequila some of that bourbon's signature sweetness.
On The Nose
This Reposado impresses with notes of vanilla, baked apple, cinnamon, fresh agave, and oak.
On The Palate
Fresh agave and citrus upfront that is soon warmed by spices and sweet vanilla and cinnamon mid-palate. A hint of hazelnuts follows while the vegetal note is well-balanced and earthy with a moreish heated finish of agave, oak and spice.
Best Served
While El Jimador Reposado is undoubtedly ideal for sipping neat, you can also try it in various cocktails. It makes a tasty Paloma cocktail alongside Mexican grapefruit soda, lime, and a dash of salt.
Pricing & Info
You can check the latest pricing, product information, and order online.
3. El Jimador Tequila Añejo
Overview
Distiller: El Jimador
ABV: 40% (80 Proof)
Country: Mexico
Colour: Amber
Review
This top-of-the-line Añejo tequila from El Jimador never fails to impress. Whilt not as rich as the more expensive Don Julio Añejo, this year-aged tequila remains a bargain.
El Jimador Añejo spends an entire year ageing in American oak barrels, lending it an unrivalled soft and sweet taste, plus a rich dark amber colour. This tequila is rich, full-bodied, and can make any occasion special.
On The Nose
This buttery smooth spirit reveals caramel, vanilla, and hazelnut aromas.
On The Palate
An earthy flavour characterised by oak-aged agave, cinnamon, and butterscotch. Delicious sweetness lingers throughout, and the caramel notes are an undisputed highlight.
Look out for faint spice and peppery notes in between the swirl of agave flavours. This finish is smooth, soft, and dangerously inviting.
Best Served
There's only one thing to do with this Añejo tequila… sip it, long and slow, and over ice. Doing so lets you savour the complexity of the spirit and fully appreciate the deep taste that its long ageing period has imparted. A comfy outdoor lounger and Mexican sunset are optional.
Pricing & Info
You can check the latest pricing, product information, and order online.

Andrew's Top Pick
El Jimador Tequila Añejo
My top pick of the best El Jimador Tequila is the Añejo because, price-wise, it's a no-brainer to purchase this aged beauty and enjoy the extra oaky depth.
Best Serve Ideas
| No. | Tequila | Best Serve |
| --- | --- | --- |
| 1 | El Jimador Tequila Blanco | Shot, Margarita, Paloma |
| 2 | El Jimador Tequila Reposado | Tequila Old Fashioned, or neat/on the rocks |
| 3 | El Jimador Tequila Añejo | Sipped neat, or in an expensive El Diablo |
Conclusion
El Jimador is a classic take on Mexican tequila, and it is easy to see why. Although they only offer three tequila styles, each is an incredible taste journey with a distinctive and refreshing flavour profile.
How you can enjoy each El Jimador tequila depends on your preferred style of tequila drinking. While all their variants are acceptable to sip, I personally recommend you do so with the oak-aged Reposado and Añejo. The Blanco shines more for shots and in cocktails, like the famous – or infamous – margarita.
The Añejo is undisputedly a paragon of sipping tequilas, while the Blanco is a great shooter and mixer. Lastly, the Reposado represents an intelligent compromise between the two.
Don't forget to check out my article on Patron tequila

Further Reading
Below are some additional articles from The Drinks Geek blog. We write articles on several fascinating areas of drinks, including different brands, drink types, cocktail recipes and more.