There is a revolution occurring in Mexico, and thankfully it's a tequila revolution. No longer must this completely overlooked spirit be washed down with salt and lemon. Did you know that the reason tequila was traditionally drunk with salt and lime was to take the edge off the burning taste of this cheap-to-make spirit?
The 10 best tequilas for sipping reviewed here all have a few things in common; quality ingredients, cask ageing, and most importantly, unparalleled taste. If I have learned anything during my extensive research of world-beating rum these factors are vital for enhanced flavour and depth.
What Type Of Tequila Is Best For Sipping? Añejo and Extra Añejo are the best types of tequila for sipping. Aged in oak barrels no larger than 600 litres, Añejo tequila is aged for up to a year, whilst Extra Añejo tequila is aged for up to three years. This delivers more complexity and depth.
Types Of Tequila
There are 5 types of tequila that you need to be aware of. Some are certainly not for sipping so let us take a quick review of each class to ensure you don't end up sipping a tequila that is designed for shots!
Blanco
Blanco (translates "white") is also known as "silver" tequila. The Blanco variety of tequila is usually completely clear in colour and not aged in barrels. It is generally bottled straight after being distilled.
Depending on the process the distiller uses, sometimes the tequila is allowed to settle before bottling. The whole point of Blanco tequila is to enjoy the flavour of the agave in it's truest form. This is a burning spirit that is typically enjoyed as a shot with salt & lime. Not a sipper, but great fun.
Joven
Joven (translates as "young") is the half-way house of the tequila world. It usually is very light brown as either has additional flavourings added before being bottled or sometimes is mixed with Añejo or extra Añejo.
This is more aimed to be used as a mixer for tequila cocktails rather than for sipping or shots. Personally, I do not recommend this type of tequila as is it trying to please the masses and fails.
Reposado
Reposado (translates "restful") is a light golden coloured tequila that must (under government regulations) be aged in oak barrels for at least 2 months. This is where your sipping tequila journey can begin!
The tannins in the wood provide the tequila with additional body. As the oak barrels may have already been used to age other spirits such as bourbon or whiskey, the tequila takes on many exciting flavours such as caramel and light woody notes. However, the sweet green agave taste of the original tequila is still the most prominent note.
Añejo
Añejo (translates to "old/aged") is, in my opinion, where the majority of the best sipping tequilas reside. Añejo tequila is aged in American or French oak barrels for between 1 to 3 years. This tequila is far darker than Reposado and has a smoother and more complex flavour profile of notes such as caramel, vanilla, burnt sugar, woody notes and a more muted agave flavour.
Extra Añejo
Extra Añejo (translates to "extra old/aged") is deep brown in colour and arguably the smoothest and flavoursome (and expensive!) tequila available. Extra Añejo tequila must be aged for at least 3 years in barrels or casks that do not exceed 600 litres. Most distillers age their Extra Añejo tequila for nearer to 4 years.
Deeper and smoother notes of rich caramel, spices, vanilla, dark chocolate, burnt sugar, oak together with delicate green agave are all present to delight the taste-buds. Extra Añejo is considered by most to be the best sipping tequila available.
Top 10 Best Tequilas For Sipping
Here are 10 of the best tequilas for sipping that you are likely to come across. I have included a variety of Añejo and Extra Añejo tequilas with the odd Reposado also sneaking if it is of a high enough standard.
1. VIVIR Tequila Añejo
Overview
Country: Mexico
Type: Añejo
Alcohol by Volume (ABV): 40%
Brand: VIVIR
Review
Tequila Añejo is a double gold star award-winning agave Añejo tequila from VIVIR.
Producing a premium range of high-end Tequilas at a 5th generation family-owned distillery in Mexico, VIVIR is making an impact in the tequila world.
Combining highland Weber Blue Agave and natural volcanic water from a local spring. This super smooth and sophisticated tequila is aged in oak bourbon casks for 18 months for maximum flavour.
Begins with notes of smooth caramel and slightly spicy vanilla. This tequila soon reveals itself fully with a delightful burnt sweetness of banana and dark, dark chocolate. Perhaps it is the mixture of dark chocolate and burnt sweetness, but I could also detect coffee notes. Finishes in the same smooth way that it began.
Presented in an eye-catching bottle which has matt black on its shoulders and clear glass at the bottom that displays the beautify caramel glow of the tequila inside. Proudly displays their great taste awards on the neck.
A smooth, smokey and slightly sweet tequila that is perfect for slowly sipping on the rocks. Fantastic.

2. El Rayo Reposado No.2 Tequila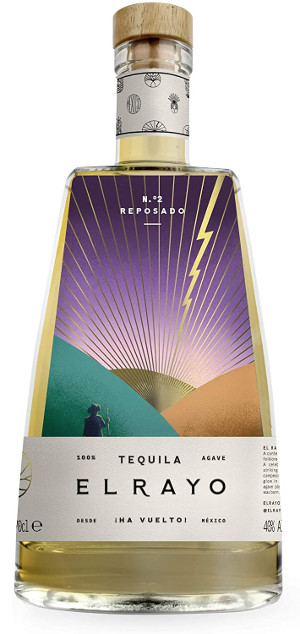 Overview
Country: Mexico
Type: Reposado
Alcohol by Volume (ABV): 40%
Brand: El Rayo
Review
As with most things in life, you get out what you put in, and El Rayo Reposado Tequila is proof of this. Not only is their agave planted and harvested by hand, but their whole distillation process also involves keeping things old-school. The tequila is then matured in old whiskey casks for 7 months. This passion clearly impacts the flavour of this fine tequila.
This is a less complex tequila than the more vibrant Añejo variety, but this is where things get interesting. Begins cleaner than most with a subtle soft sweetness of caramel, and soon becomes greener with several interesting herb notes. Finishes crisp as you would expect from a Reposado but not bitter or burning as some can be.
The El Rayo Tequila is striking and looks almost art-deco in its appearance. The label tells the story of a lightning strike on an agave plant that legend has it, created the first tequila.
Although only a young Reposado tequila, El Rayo have created a clean and fresh Reposado sipping tequila with No2 that is a pleasure to drink neat.

3. Don Julio 1942 Añejo Tequila
Overview
Country: Mexico
Type: Añejo
Alcohol by Volume (ABV): 38%
Brand: Don Julio
Review
Don Julio 1942 Anejo Tequila is a nod to the man himself, Don Julio González who began making tequila way back in 1942. The resulting liquid was the birth of the worlds first luxury premium tequila
No detail is too small Don Julio, for example, the blue weber agave is planted further apart to ensure that have room to grow, and only harvested when they have matured way beyond what other tequila distillers would wait for. But it does not stop there. The tequila itself is made in small batches to ensure quality, then aged for a further 2.5 years in oak casks to create a deeper flavour.
Begins with rich, silky caramel and dark chocolate tones that dance on the tongue. The mildly sweet finish of agave that combines with soft and comforting woody notes. This is one high-class tequila.
Presented in a slender-necked tall and rather striking rust-orange/brown bottle.
Don Julio 1942 Anejo Tequila is rich, smooth and slightly sweet. Perfect for enjoying neat on the rocks.

4. El Jimador Añejo Tequila
Overview
Country: Mexico
Type: Añejo
Alcohol by Volume (ABV): 38%
Brand: El Jimador
Review
El Jimador grows and harvests their agave in Amatitán, located in the Mexican state of Jalisco. The agave is not produced from seeds, but rather from offshoots, resulting in an exciting agave heritage.
El Jimador Añejo is a premium tequila that is double distilled then aged for 12 months in American oak barrels for added depth and a fuller flavour profile.
Notes of vanilla and toffee and a cheeky nip of spice are what welcomes your palette first. Soon comes a mix of woody notes which become almost peppery towards the finish.
This delightful tequila won best Añejo Tequila at the San Francisco World Spirits Competition, so clearly, El Jimador is doing something right. I tend to agree.
Presented in a beautifully embossed clear-glass bottle depicting an agave farmer hard at work. The caramel coloured tequila inside it proudly displayed.
El Jimador Añejo Tequila is smooth, sweet and peppery. Makes an excellent sipping tequila and one that should be enjoyed slowly to be fully appreciated.

5. Olmeca Altos Añejo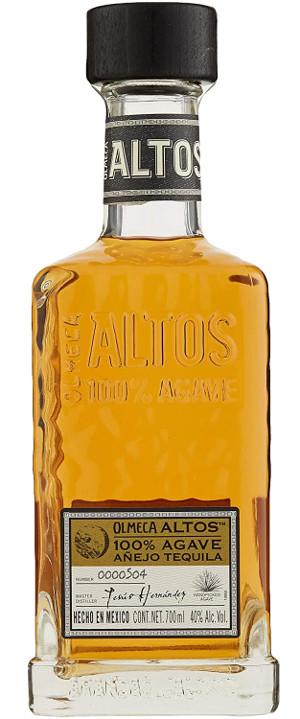 Overview
Country: Mexico
Type: Añejo
Alcohol by Volume (ABV): 40%
Brand: Altos
Review
Their story sounds rather like the A-Team (or Hart To Hart if you are old enough to recall the intro to that 70s TV show). Two professional bartenders, Henry Besant and Dre Masso enlisted the skills of tequila master Jesús Hernandez to manufacture a range of tequila that is perfect for sipping, shots and cocktails.
Grown at an altitude of over 2000 metres above sea level, in rich volcanic soil, every agave matures for 7 to 8 years until they are harvested. The agave is then cooked for 3 days in brick ovens to ensure they are tender for milling and distilling. Similar to premium gin, Altos tequila is then distilled in copper head stills to ensure the cleanest distillation process possible.
Their Añejo tequila that we are reviewing today is then aged for 18 months in old bourbon American oak barrels where the tequila gains its golden hue and flavour of warm vanilla that combines with woody notes.
Begins with ultra-smooth tones of sweet caramel, plus black pepper, and dark chocolate. Becomes more woody and nutty as it lingers on the tongue and finishes with spiced vanilla.
The bottle is squat with transparent glass that has the company name proudly embossed on the front that even includes the bottle number for traceability.
Olmeca Altos Añejo Tequila is not only smooth but sweet, chocolatey and woody. The only ways to enjoy this gold medal-winning tequila is neat over ice. Sip slowly for the full experience.

6. Gran Patrón Piedra Extra Añejo
Overview
Country: Mexico
Type: Extra Añejo
Alcohol by Volume (ABV): 40%
Brand: Patrón
Review
Patrón is perhaps the finest tequila producers in Mexico, and the jewel in their crown in my humble opinion is their extra añejo tequila, Gran Patrón Piedra Extra Añejo
The Jimadors at Patrón wait a painstaking 8 years before they uproot their Weber Blue Agave to ensure optimal sugar content. Cutting away leaves to revel the piña, which is the heart of the plant. The piñas are all hand-chopped and baked in a small brick oven, then crushed by a two-ton volcanic stone Tahona wheel and a roller mill.
Presented in a crystal bottle that oozes class, you quickly instinctively know you are in for something special with Gran Patrón Piedra Extra Añejo. As the name gives away, this is an añejo tequila that is aged for over 3 years in old bourbon oak casks to the ultimate in flavour and depth.
Begins with a slightly sweet fruity flavour that soon meets smooth vanilla and fresh agave. There is also a slight twang of mushroom. The finish is spectacular, extraordinarily smooth and slow to fade away without any harshness. Fantastic.
The vibrant brown tequila is presented in a tall and elegant looking crystal glass bottle with lightly embossed on the front. Finished with a beautiful cork stopper.
Not the cheapest tequila, but one to own and treasure for special occasions.

7. El Espolòn Reposado Tequila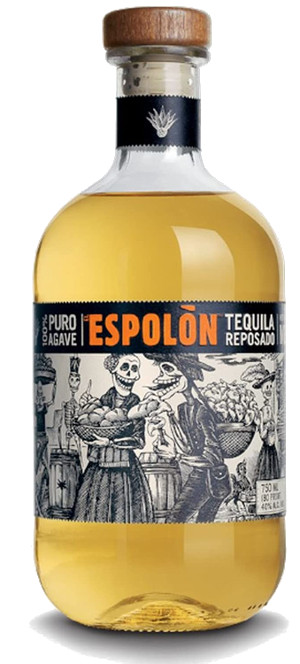 Overview
Country: Mexico
Type: Reposado
Alcohol by Volume (ABV): 40%
Brand: Espolòn San Nicolas
Review
Named after the sharp spur attached to the hind leg of the fighting rooster, Espolòn is a tribute to Mexican culture and folklore.
Espolòn tequila is created from 100% blue weber agave that grows in rich soil at 2000 meters above sea level. This extreme and demanding environment encourages the agave to achieve a higher sugar content and more intense taste.
This Reposado tequila is double distilled, once in a Coffey still, and the second time in a pot still. It is then matured in small 200-litre American oak barrels for six months
Begins with mellow vanilla and woody notes, the spicy sweetness of brown sugar and super fresh agave then appear. Cheeky caramel seems to dance with the initial sweet spices and gently calms things down. The finish is lightly spiced and has a subtle element of sweetness and freshness from the agave that remains on the tongue long after swallowing.
One of my favourite bottle labels with its incredibly creepy drawings of Mexican folklore.
Although this tequila perhaps lacks the depth and intensity of añejo and extra añejo, it still makes a fine sipping tequila as its both fresh and mellow. Sometimes this is precisely what you need.

8. 1800 Tequila Añejo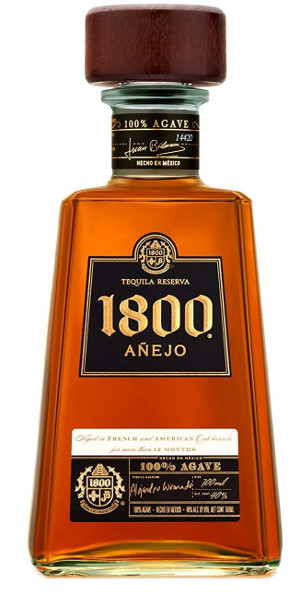 Overview
Country: Mexico
Type: Añejo
Alcohol by Volume (ABV): 38%
Brand: 1800®
Review
1800 is the year that this premium tequila was first created, and for more than 200 years the original recipe has not been deviated from. Why bother to mess with perfection I say.
1800® Tequila Anejo is brought to life with 100% Weber blue agave that is aged between 8-12 years old to ensure maximum maturity and zest. This sublimely deep tequila is aged for at least 14 months in French oak barrels to ensure this tequila becomes more than the sum of its parts.
Begins so smoothly its like butter. From the start its woody with vanilla and butterscotch that melts in the mouth. Its finish is well rounded, smooth yet interestingly somewhat spicy. This is a tequila that deserves a place in your collection.
This is a tremendously vibrant, rich and luxurious tequila that depends sipping and sipping alone. Pairs well with a crisp Mexican beer.
Presented in a classy bottle with crisp lines, said to be inspired from the stones used to build the Mayan pyramids. The words "Trabajo – Passion – Honestidad" that translates to "Work – Passion – Honesty" are proudly displayed on the crest of each bottle of 1800.

9. Tapatio Excelencia Gran Reserva Extra Añejo

Overview
Country: Mexico
Type: Extra Añejo
Alcohol by Volume (ABV): 40%
Brand: Tapatio
Review
Tapatio has been creating premium tequila for over 80 years, ever since Don Felipe opened La Alteña distillery in the tequila producing Mecca of Jalisco, Mexico back in 1937
Tapatio Excelencia Gran Reserva Extra Añejois matured for 4 years in a combination of American oak and French oak casks (depending on the batch). This creates unparalleled depth and body, it is rested in smaller containers before bottling to reduce any stresses on this divine beverage.
The first wave of flavours is a combination of vibrant spicy sweetness of brown sugar and dark (almost bitter) chocolate. Soon a wave of smooth woody notes and caramel envelop the entire experience. The finish is soft yet slightly herb-like, with woody notes remaining throughout.
This must be one of the finest sipping tequilas available and deserves celebrity status. It has so much depth and body you cannot help but take another sip to explore the many facets of this tequila
Tapatio Excelencia Gran Reserva is a traditional tequila that should never be placed anywhere near lime, salt and a shot glass. This triumph of tequila can only be sipped neat to savour the full complexity
The way it is presented in an almost antique bottle with old brown paper label keeps things real and close to the roots of original tequila.

10. Sierra Milenario Extra Anejo Tequila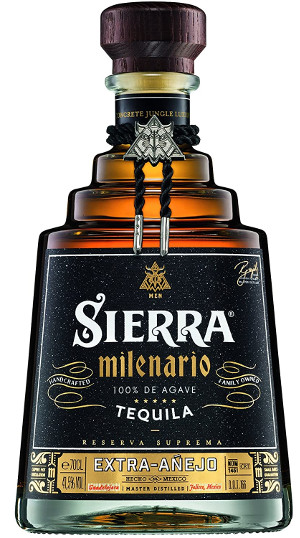 Overview
Country: Mexico
Type: Extra Añejo
Alcohol by Volume (ABV): 41.5%
Brand: Sierra Milenario
Review
In the high-altitude, mineral-rich, sunny highlands of Jalisco, master distiller Rodolfo Gonzalez Gonzalez produces the finest tequila using traditional methods dating back hundreds of years and harvested by hand. Using a gentle low-grade distillation process in copper pots brings the flavours of the agave to the forefront.
SIERRA Milenario Extra Anejo Tequila is double-distilled and aged in French oak barrels for nearly four years to ensure the utmost in richness, depth and complexity. This love, care and attention produce a more potent tequila at 41.5 ABV!
This tequila is more robust than most and begins with a jolt of juicy agave, spice and vanilla. Midway it becomes more vibrant and reveals flavours of caramel and a dark woodiness. The finish is surprising for such a strong spirit, it's very smooth, well rounded with a dark/bitter chocolate note that lingers nicely in the back of the throat.
The bottle is genuinely stunning and reminiscent of a Mayan pyramid. Each of the Sierra Milenario range of tequilas proudly displays its unique character under different Mayan zodiac sign. This sublime Extra Añejo tequila bears the zodiac sign for wisdom. You would be wise to get yourself a bottle.
A masterpiece creation. SIERRA Milenario Extra Anejo Tequila is a must for anyone serious about enjoying tequila the way it should be, slowly and deliberately.
How Is Tequila Made?
Tequila is made from the blue agave plant. Its spiky leaves are removed by jimadors to expose the heart of the plant, also known as the "piña". The harvested piña's are then crushed and baked in a steam producing brick oven to soften them for shredding.
Once shredded, the pulp is compressed to release the sugary sap of the piñas. This sweet agave juice is diluted with water and yeast is added to begin the fermentation process that lasts approx 4 days).
The fermented agave juice is then distilled by either port or columns stills to extract the alcohol. Finally, depending on the tequila type (see the next section), it is placed in oak barrels to age.
Conclusion
Well, folks, this concludes our comprehensive guide of the top 10 best tequilas for sipping. The next time you find yourself in a bar and fancy something different, order an Añejo or extra Añejo tequila on the rocks.
Now you enjoy both the flavour and the confused expression on the faces of your friends as they wonder how you can possibly sip that fire-water and enjoy it. You can also go one step further down the agave rabbit hole and check out my review on 10 best Mezcals for sipping and also its distant cousin, the 7 best Sotol brands.
Are the days of enjoying tequila shots with salt, lime and a group of friends numbered? I don't think so. However, tequila has a more mature and refined side that deserves further exploration of tequila history. As we have revealed, these premium tequilas all contain the highest quality ingredients and are aged to perfection like a fine wine.