My first experience with grappa, the Italian after-dinner digestif, was a couple of years ago while dining at one of my favourite Italian restaurants, Sartoria of Saville Row, London.
I thoroughly recommend grappa as a delightful way to end an Italian meal, it's the icing-on-the-cake, so to speak. Coming up are some of the best Italian grappa brands to discover that are both delicious and traditional.
What Is Grappa?
Grappa is an Italian brandy that is made from distilled pomace; which is a mixture of the pressed skins, pips and stalks that remain from the winemaking process. Much like champagne, to be named as grappa, the brandy must be distilled in Italy using Italian grape pomace. Traditionally grappa is served slightly below room temperature (9-15°C) as an after-dinner digestif.
How Is Grappa Made?
Grappa is made by fermenting the pressed skins, pips and stalks (pomace) that remain from the winemaking process. The pomace used for grappa can either be of a single grape variety, or a combination of different types such as Merlot, Tocai, Cabernet and Pinot.
The fermented grappa is then distilled to produce a clear brandy that is usually around 40% Alcohol by Volume (ABV). Once distilled, Italian regulations state that the grappa must be aged for at least 6 months.
Main Types Of Grappa
There are 2 main varieties of grappa that you should be aware of, young and aged. Let's quickly review;
– Young Grappa
Young grappa is aged for between 6 – 12 months in non-wooden neutral containers such as steel or glass. These containers ensure they do not add any additional flavours to the grappa. They are clear in colour and tend to be more clean, crisp and fruity than the aged variety. Best served slightly chilled (9-12°C).
– Aged Grappa
Aged grappa goes one step further and is aged in wooden casks, usually oak or ash for 12 months or more. It becomes more golden in colour as it inherits some of the woody notes from the barrel it was aged in.
This type of grappa tends to be smoother and more vibrant than young grappa, with flavours of vanilla, spices, and woody tones. Best served only slightly chilled to be above room temperature to let the different flavours surface (12-16°C).

Top 10 Best Italian Grappa Brands
Here are 10 extraordinary grappas from the best Italian grappa brands that you are likely to encounter. I have included a mixture of both young and aged grappa that should delight the palate. All you need to do now is choose one!
1. Tosolini Grappa Artigiana Cividina

Overview
Distiller: Bepi Tosolini
Alcohol by Volume (ABV): 40%
Colour: Clear
Country: Italy
Type: Young
Review
The Tosolini brand began just after the second world war when Bepi Tosolini decided to master the tricky art of producing his own grappa in the scenic Friulian hills.
Using only the finest premium grapes ensures that the finished product has such flavour and smoothness that it catapulted grappa into elite drink status, rather than wine's odd cousin.
It's interesting to note that this grappa is aged in ash barrels to ensure only light wood notes enhance the aroma, unlike some aged tequilas that use old bourbon barrels for additional depth.
A delightful artisan grappa made by the master distillers at Tosolini, steam distilled in traditional copper stills. This is a crystal clear grappa with an aroma of light floral, spices, and light pepper.
This grappa begins with fruity tones that are clean and crisp but not overly sharp. There is a slightly white un-roasted almond taste in the mid that adds a creaminess. Finishes gently with additional fruity notes and black cracked pepper hits the back of the throat ever-so-slightly.
In summary, this is an enjoyably light grappa that is ideal for enjoying after a meal.
2. Grappa di Tocai Castagno Barrique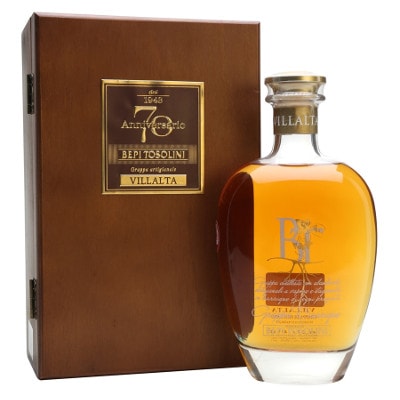 Overview
Distiller: Bepi Tosolini
Alcohol by Volume (ABV): 40%
Colour: Golden
Country: Italy
Type: Aged
Review
The Bepi Tosolini brand goes from strength to strength from its post-WWII days and is now regarded as one of the finest producers of grappa on the planet with a fantastic legacy.
Grappa di Tocai Castagno Barrique is a very different kettle-of-fish than the previous light and clean grappa from Bepi Tosolini. Here we enter the world of luxury grappa, a very different universe indeed.
This fine grappa is aged in chestnut wood barrels that add an incredible amount of depth. The aroma is woody and fruity with a hint of sweet spice.
The beginning is silky smooth while retaining a fresh edge, main notes are burnt wood and sweet apricot. As this grappa lingers on the tongue, it becomes more smokey with a touch of cinnamon. Finishes with mildly spiced but creamy vanilla, apricot and slight citrus. This is the kind of grappa to be enjoyed slowing like a fine wine or cognac.
This is a phenomenal aged grappa with fruity and woody notes that deserves your full attention when slowly enjoyed.
3. Acquavite Da Most D' Uva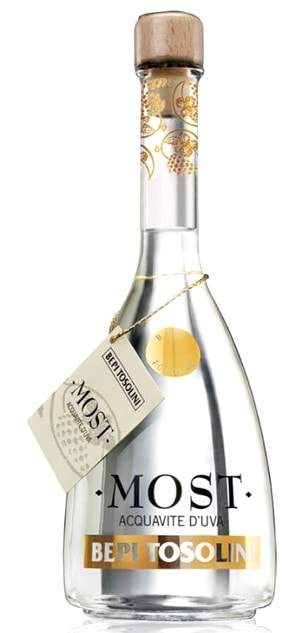 Overview
Distiller: Bepi Tosolini
Alcohol by Volume (ABV): 40%
Colour: Clear
Country: Italy
Type: Young
Review
Yet another grappa from the powerhouse known as Bepi Tosolini. The brand continues to produce some of the finest grappas available. Everything from dry, clear un-aged grappa to the aged variety of deeper amber grappas are available from this producer.
Acquavite Da Most D' Uva grappa is an unaged dry grappa made from a combination of grape pomace, including Merlot, Tocai, Cabernet and Pinot Grigio grapes.
The aroma is delicate and slightly floral, however, more prominent are the delicious red summer berry notes that add to the overall aromatic nature of this grappa.
This delightfully fresh grappa has a soft, gentle yet dry start, The first notes that appear are juicy summer fruits, mild spice, and a slight hint of fresh mint. The finish is fruity and mildly peppery and lingers nicely on the palate.
Overall, Acquavite Da Most D' Uva grappa is a pleasurable fruity dry grappa that is suitable as a post-dinner drink in the warming summer months.
4. Nardini Grappa Bianca 40

Overview
Distiller: Nardini
Alcohol by Volume (ABV): 40%
Colour: Clear
Country: Italy
Type: Young
Review
I must say, the Nardini brand has some history. Founded in 1799 by Bortolo Nardini, the brand is still run by the seventh generation of the Nardini family. What a terrific legacy that one man's actions made.
Using their trademark steam method to ensure only the heart of the grappa is extracted to ensure maximum flavour and depth to their entire range of grappas and other spirits.
Let's get down to the taste. Grappa Bianca 40 is a young, fresh and fragrant white grappa from Nardini. Perfect for beginners and seasoned grappa lovers alike, this is one to savour when you fancy a break from the norm and wish to enjoy something more fast-paced and agile.
Begins lightly with delicate notes of lush grape, spices and almond-flavoured chocolate. Lingering notes of mild pepper appear and mingle with woody notes, and stay until the dry yet refreshing finish.
This is a very versatile grappa that is perfect for any occasion, and one that is an excellent choice for beginners to this tipple. Best served at room temperature to enjoy the light and fresh aromas and notes on the palate.
5. Tosolini Grappa di Merlot

Overview
Distiller: Bepi Tosolini
Alcohol by Volume (ABV): 40%
Colour: Clear
Country: Italy
Type: Young
Review
Another gem from Bepi Tosolini, the third generation family grappa distiller whose traditional manufacturing methods are passed down through the generations. This particular beauty is distilled only from the pomace of the merlot grape variety.
Begins very cleanly with notes of sweet red grape and raspberry. Mid-stage you are presented with a welcome nip of spice, in particular peppery notes. The finish is as clean as the start, slightly acidy without being burning.
Tosolini Grappa di Merlot comes presented in luxury, long-necked bottles with the brand's initials embossed on the front of the bottle. Discreet pink/white label and cork-like stopper.
A single grape variety of grappa using merlot grapes that is both crisp and fruity. One to enjoy on a breezy summer afternoon.
6. Nardini Grappa Ruta

Overview
Distiller: Nardini
Alcohol by Volume (ABV): 43%
Colour: Light Green
Country: Italy
Type: Aged
Review
Nardini has been producing the finest grappa since 1779 and is still a family-run business. Their use of steam distillation and locally-sourced ingredients has ensured they are always more than one step ahead of the competition where premium grappa is concerned.
Grappa Ruta is distilled from pomace containing 3 different grape varieties, Tokay, Cabernet and Pinot. This is not the only ingredient in this luxury grappa, as Nardini then infuse the spirit with rue, the bittersweet yet aromatic herb. There has been some talk that rue acts as an aphrodisiac! Not so sure about that, but hey, handy to know.
Begins with a fragrant introduction of delicious spices, clean green notes and juicy grape. Soon the bittersweet twang of rue makes itself known. The finish is clean, slightly minty and marginally more bitter than sweet.
This particular grappa is at its best when served chilled in my personal opinion, and best enjoyed as a post-meal drink, or even cheeky post-lunch for that matter.
This premium grappa comes presented in a standard bottle but has a twist; there is a sprig of rue in each bottle to further enhance the flavour, and of course, to look rather fancy. How cool is that?
Overall, Grappa Ruta is a delight from start to finish. It is herby, slightly minty, bittersweet and incredibly fresh.
7. Grappa Julia Invecchiata
Overview
Distiller: Julia (owned by Stock)
Alcohol by Volume (ABV): 40%
Colour: Light Amber
Country: Italy
Type: Aged
Review
Julia is a historic brand whose name is synonymous with grappa production.
Aged in oak barrels for up to a year after distillation, Grappa Julia Invecchiata takes on additional body and depth that can be lacking in some other grappa varieties.
Begins like many other grappas, crisp and fresh with fruity notes. However, that is where the similarity ends. Midway the taste becomes more smooth and well rounded. Deeper woody notes appear and almost becomes brandy-like. The finish is smooth and refined, which makes this an obvious choice for a sipping grappa.
Julia Invecchiata comes presented in a beautiful style of bottle that reminds me of a child when I used to look through my father's drinks cabinet in the 70s that was filled with all sorts of delights. No, I never drank anything, although was rather partial to sip of a snowball at Christmas if allowed. Certainly, a grappa to invest in, almost just for the bottle.
In summary, this barrel-aged grappa has more body and depth than most and provides incredible value. One to enjoy neat at room temperature, although I preferred sipping it on the rocks.
8. Marolo Grappa di Barbaresco Rabajá

Overview
Distiller: Marolo
Alcohol by Volume (ABV): 42%
Colour: Clear
Country: Italy
Type: Young
Review
Since 1977, Marolo has distilled grappa in the hilly Langhe area located in the Piedmont region. Those Italian hills produce some of the world's finest red wines, such as Barolo, Barbera and Nebbiolo. Logic dictates that the pomace used from this region needs your attention.
More newsworthy is that 1977 was the year of the Queen's Jubilee where I won first prize for our street party's fancy dress. I was 7 and dressed as a robot made out of cardboard boxes and covered in tin foil, with an old car radio stuck on my chest for added technology. Just in case you were wondering.
Grappa di Barbaresco Rabajá is distilled from the pomace of the Nebbiolo grape variety that is native to the Piedmont region of Italy. These grapes are known for their delicate nose and heavier tannins and slightly elevated acidity.
Don't be fooled by its clear colour, this grappa is full of darker flavours. It begins with notes of zesty orange, apricot and dark fruits. The mid-taste is slightly acidic but soon fades to an interesting crispness with a slight nip of cracked black pepper. Overall this is a gentle and refined grappa that deserves your attention.
Overall, a delightful grappa that is darker and fruitier than I expected. Perfect for drinking both during and after dinner. Highly recommended.
9. Donnafugata Ben Ryé Grappa
Overview
Distiller: Donnafugata
Alcohol by Volume (ABV): 42%
Colour: Antique gold
Country: Italy
Type: Aged
Review
Donnafugata is a 5th generation family run distillery located on the Italian island of Pantelleria that nestles in the Strait of Sicily. Their passion for winemaking and not forgetting grappa in unparalleled.
No detail is too small, they use up to 20 grape varieties that are grown natively in Contessa Entellina and Pantelleria, and have over 400 hectares of vineyards.
This grappa begins slightly sweet with fruity notes of peach, apricot and fig. Complimenting the initial sweetness is subtle notes of zesty lemon and lime, there are also mild florals on the nose.
As this grappa reveals itself on the tongue, you are presented with smooth and soothing vanilla. Finishes peppery, fruity and cleanly. Delicious.
In summary, Donnafugata Ben Ryé Grappa is a fresh, fruity and moderately sweet grappa that makes an excellent post-meal digestif, or with cheese and biscuits. Best served slightly chilled rather than at room temperature.
10. Capovilla Grappa Tabacco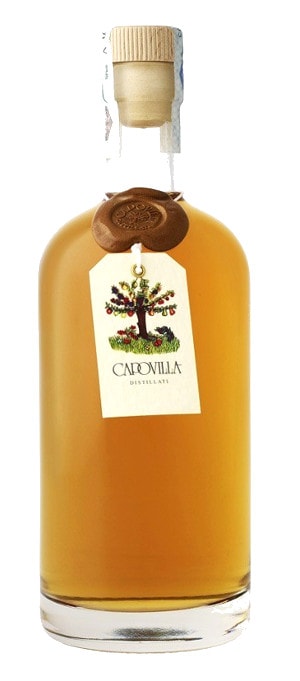 Overview
Distiller: Capovilla
Alcohol by Volume (ABV): 46%
Colour: Antique gold
Country: Italy
Type: Aged
Review
Capovilla Distillati is old school, and renowned in the world of Italian grappa. Using traditional discontinuous distilling cycle methods in small stills, they produce some of the finest grappa that you are ever likely to encounter.
Most of the process is still done by hand, and it shows. This is one fantastic artisan grappa manufacturer that is well known for its use of low levels of sulphur dioxide and ultra-ripe fruit.
As for taste, Capovilla Grappa Tabacco begins crisp and slightly bitter with notes of orange peel and roasted almond. As this grappa lingers, you are then introduced to fresh leafed pipe tobacco and warm spices which I found delightful.
Finishes smoothly with smokey woody notes, caramel and surprisingly faint sweetness. This grappa has layer upon layer to explore and enjoy.
Grappa Tabacco is bottled and even labelled by hand. It is also sealed with wax which creates a homely niche feel. Would make an eye-catching gift as look a million dollars.
To summarise, Capovilla Grappa Tabacco is a wonderfully well-rounded, deep and smokey grappa. Perfect for using as a winter after-dinner sipping grappa.

Conclusion
Grappa makes an excellent after-dinner digestif. The non-aged variety is lighter, crisper and more fruity, making them ideal for enjoying after a lighter meal in the summertime. The aged type is smoother, more vibrant and more refined, and lend itself better to sipping after a more decadent winter meal.
Related: 10 Best Pisco Brands
This concludes my rather useful guide of the top 10 best Italian grappa brands. If you found this article helpful please share it with others as it really helps me to spread the word about exciting drinks to delight the tastebuds.
Need an Italian beer to go with that Italian grappa? Don't forget to check out Andrew's article: 7 Talented Beers Mr Ripley Would Die For.