Absinthe has a somewhat dark reputation due to its long and checkered past. La Fee Verte (the green fairy) as it is also known, was actually banned for most of the 20th century as some of its slightly questionable ingredients were thought to cause 'mania'.
We have delved into the darkest corners of the drinks cabinet to explore the 10 best absinthe brands you should consider. Time to dust off these bottles for closer scrutiny.
What Is Absinthe?
For those not in the know, absinthe is a highly alcoholic drink derived from botanical sources. Traditionally made from anise, fennel, and wormwood, absinthe can range from 55% – 83% ABV, making it one of the most potent alcoholic drinks on the planet.
History Of Absinthe
There are many incredible facts about Absinthe. Although dating back to the Egyptian empire where it was used for medicinal purposes (that old excuse!), modern absinthe as we know it was first brewed in Sweden in the 18th century.
Initially, it contained unadulterated wormwood, and as a result, the compound thujone. Thujone is responsible for the hallucinogenic reputation of absinthe and is proved to be toxic in large doses.
When introduced to France as an alcoholic drink in the 1840s, it quickly developed a decadent and violent reputation. Thought to be causing the downfall of society, absinthe was banned from 1912.
It would be almost 90 years before the regulation of how much thujone is present in absinthe would allow the ban to be finally lifted.

10 Best Absinthe Brands Reviewed
Absinthe is by no means an 'easy' drink; with an ABV generally no lower than 55% even weaker absinthe is more potent than vodka and whisky. Here are the top 10 best absinthe brands for the more daring among you.
1. Jade Terminus Oxygenee
Overview
Distiller: Combier & Jade Liqueurs
Alcohol by Volume (ABV): 68%
Colour: Green
Country: France
Review
Combier & Jade Liqueurs began life as a candy shop in Saumur, it was opened in 1834 by Jean-Baptiste Combier and his brother Claude. With an alembic still in the back of the shop he made liqueurs to fill his candies and chocolates – they were so popular that he bought more alembics and opened a distillery in 1848.
Today Combier & Jade own 2 fields of wormwood cultivars and continues to make absinthe traditionally by harvesting, drying, and mixing their ingredients by hand.
The Terminus Oxygenee blend has been hailed as the "most powerful expression of the spirit [absinthe] in the Jade portfolio". This is high praise, of course, but it is accurate. An aromatic, creamy, and stimulating absinthe.
Sharp and complex, it has a bitter undertone that is reminiscent of the spirits medicinal origins. At 68% ABV, this is not the most potent absinthe on the market, but it is a potent drink which is best suited to mixing if you are unused to it.
2. Absinthe Pernod Recette Traditionenelle

Overview
Distiller: Pernod
Alcohol by Volume (ABV): 68%
Colour: Green
Country: France
Review
Founded in 1805, Pernod is one of the most well-known absinthe producers in the world. As a household name, Pernod is available across the globe, making it one of the most accessible absinthes on this list.
Their original recipe absinthe fell out of use between 1915 and 1938. When restrictions on absinthe production were lifted, Absinthe Pernod was relaunched in 2014 in line with the recipe from 1900.
This traditional absinthe is distilled from a wine alcohol base and has a natural green colour which is achieved through maceration with nettles. Slightly heavy on the palette, this opaque absinthe is at its best when mixed with water; at 68% ABV the dilution is necessary for most people.
Silky in texture, though not overly complicated it has a durable, bitter finish which underpins the initial sweetness but can overwhelming. A small amount of sugar will offset this, and you won't be disappointed.
3. Absinthe Libertine 72 Intense
Overview
Distiller: Paul Devoille
Alcohol by Volume (ABV): 72%
Colour: Green/Yellow
Country: France
Review
First opening their doors in 1859, the Paul Devoille distillery is one of the oldest distilleries on this list. Founder Xavier Devoille named it for his son who worked hard to make it a success.
For over 100 years the Paul Devoille distillery was one of the most influential in France, but by 1986 it was in dire financial straits. The efforts of buyer René Miscault saved this historic distillery, and today it produces some of the best absinthe in the world.
Libertine 72 Intense is a delicate yet powerful blend (72% ABV) which won a 2019 gold medal at the international competition in Lyon. Produced using a recipe from 1894, this is traditional absinthe with a twist.
Made using entirely natural ingredients, the addition of hyssop, Melissa, veronica, and liquorice to the traditional components of wormwood, fennel, and anise give this absinthe a distinctly fragrant flavour. Less bitter than other blends, this is an excellent choice for absinthe amateurs.
4. Serpis Classic 65

Overview
Distiller: Licores Sinc Society
Alcohol by Volume (ABV): 65%
Colour: Red
Country: Spain
Review
Founded in 1964, the Licores Sinc Society specialises in the distilling and distribution of spirits. They produce many drinks, and the production of their 'Aperitivo de Cafe' (a coffee-based aperitif) constitutes a considerable part of their business.
Since 2000, however, their production of absinthe has grown. Initially, Licores produced green, blue, and red absinthe, but today focus on red absinthe and underline the exotic nature of this drink.
Serpis Classic 65 is not traditional absinthe; fruity and fragrant it lacks the wormwood which makes traditional absinthe so bitter. At 65% ABV it's potent, but not the strongest of absinthes; this is one reason why it is thus suitable for beginners.
Mellow and straightforward, it has the traditional 'absinthe' taste but lacks the overwhelming complexity and bitterness that can make it unapproachable for novices. Serpis Classics 65 trades traditional distillation methods for a more palatable taste and intensity.
5. Absinthe St. Antoine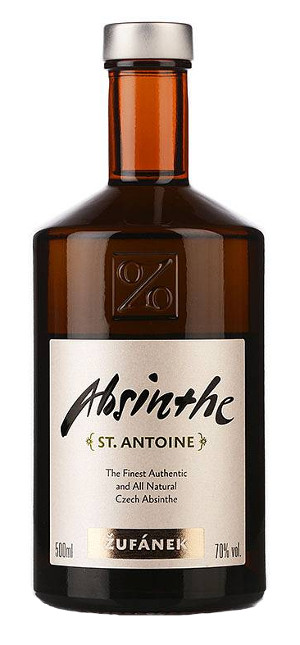 Overview
Distiller: Zufanek distillery
Alcohol by Volume (ABV): 70%
Colour: Green
Country: Czech Republic
Review
The Zufanek distillery (which produces St. Antoine absinthe) is one of the youngest absinthe producers on this list. They have been operating since 2000 and primarily produced mead until 2008 when they moved into absinthe distillation.
Every drink produced by this distillery is made using fruit cultivated in their own orchards. Likewise, most of the herbs used in their absinthe are grown by the Zufanek family.
Without a doubt one of the best Czech absinthes, Absinthe St. Antoine is named for a town close to its place of production, and it is stunningly intense. At 70% ABV, mixing it with water is not just a serving suggestion, it's imperative.
Entirely natural, this absinthe has a light green colour with golden hints and a complex, floral flavour which reveals layers of aniseed, fennel, veronica, floral and fruity notes, and of course the familiar tang of wormwood. A real fixture of the absinthe world, despite its relative youth.
6. Apocalypse Absinthe
Overview
Distiller: Bourbonnaise Distillery
Alcohol by Volume (ABV): 65%
Colour: Green
Country: France
Review
The youngest distillery on this list is undoubtedly the Bourbonnaise Distillery. Located in France, as most of the distillers on this list are, Bourbonnaise Distillery opened its doors in May 2011 and has since become one of the most exciting and prominent absinthe producers in the world.
By mixing traditional methods with unusual ingredients such as bison grass, they have created products which are one of a kind while still staying true to the original recipe.
Apocalypse is a rare and stunning fusion of tradition and modernity in both design and flavour. The skull-shaped bottle made famous by Crystal Head vodka is put on stunningly display; the contours and edges are really highlighted by the amber colour of this absinthe.
This isn't just a clever gimmick as this is genuinely high-quality absinthe. Notes of lemon, peppermint, anise, grand wormwood and fennel are easily distinguishable in its taste and scent.
A sophisticated tipple, but it's not bitter, relatively speaking. While the recommendation is to drink it with water, it is perfect for sipping straight.
7. François Guy
Overview
Distiller: Pierre Guy
Alcohol by Volume (ABV): 45%
Colour: Green
Country: France
Review
The Distillery Pierre Guy was founded in 1890 as a family-run absinthe distillery in Pontarlier, France.
Today they are the last family-owned and operated distillery in the area, and are renowned for making high-quality absinthes as well as traditional liqueurs, eaux-de-vie, aperitifs, and preserved fruits. This diverse portfolio may seem unusual, but it works well for them.
François Guy is made using a century-old recipe and takes its colour from the herbs used to create it. With a strong anise flavour and a fragrant palette, this is relatively non-bitter absinthe and at 45% ABV, it is surprisingly low alcohol.
Well-rounded with a touch of anise, this is non-complex and far from overwhelming; perfect for novices.
8. Roquette 1797
Overview
Distiller: Emile Pernot Distillery
Alcohol by Volume (ABV): 75%
Colour: Green
Country: France
Review
Founded by Emile-Ferdinand Pernot in 1899, the Emile Pernot Distillery is one of the most highly-regarded distilleries in France. They are known for producing high-quality drinks and dedication to traditional methods.
When absinthe was banned around 1915, they turned to other spirits, but since 2001 they have been producing absinthe from an old family recipe.
Roquette 1797 is entirely unique thanks to the hand-written 18th-century recipe which brought it to life.
A taste of history, this absinthe gives us an insight into what the spirit was like while on its way to becoming the most popular drink in France.
The pretty colour is derived from the green anise, fennel, grand wormwood, and other (secret) ingredients used in the distillation process. Perfect for drinking warm with a touch of water, this is a must for all absinthe lovers.
9. La Clandestine
Overview
Distiller: Artemisia Bugnon distillery
Alcohol by Volume (ABV): 53%
Colour: Clear
Country: Switzerland
Review
The Artemisia Bugnon distillery began life as a bootleg operation, and since then has been granted the status of a legal distillery by the Swiss government.
Acting legally since 2005 they have quickly gained a solid reputation for innovation and quality. The Alambic pot still that they use are more single-walled, and the fierce heat is partly responsible for the unique flavours.
The light green colour of this absinthe is derived from the herbs of Jura used to create it. La Clandestine takes its name from the distilleries history and its tender, sweet, and complex flavour from the fruity herbs added to the traditional mix.
10. Green Velvet Val. 340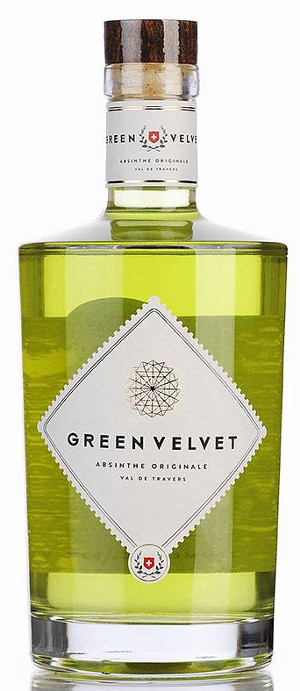 Overview
Distiller: Gaudentia Persoz
Alcohol by Volume (ABV): 53%
Colour: Green
Country: Switzerland
Review
Named for its founder, Gaudentia Persoz is a new distillery that is making real waves in the community. Passionate, talented, and one of the first female distillers in Switzerland. Using a historic recipe from 1898, Persoz has made some remarkable absinthes. Using a historic recipe from 1898, Persoz has made some remarkable absinthes.
Green Velvet Val. 340 has an exquisite light green colouration which is derived from the fruity herbs, and Val-de-Travers added to the usual mix of fennel, wormwood, and anise.
Slightly spicy and bittersweet, it is nonetheless smooth and well-rounded. At 53% ABV, it is relatively mild, which makes it ideally suited to novice absinthe drinkers.

Conclusion
For nearly 100 years absinthe has been an underground beverage with rather a dark notoriety. The sheer strength, complexity, plus the inclusion of thujone, perhaps make the best absinthe brands on this list a drink for the brave.
If you're new to absinthe, remember that it is recommended that you dilute it with water (it should become cloudy once appropriately mixed) and that adding small amounts of sugar is not unusual.
This concludes our journey into the history books, I hope you found this an informative read.