Liqueurs are available in an incredible assortment of flavours, varying from fruity, herbal and floral to coffee, nut and even chocolate. Today we focus on the best fruit liqueurs that are made with a variety of enticing fruits. Flavours such as orange, raspberry, blackcurrant, cherry, and lychee create an enticing fruity experience.
Liqueurs are incredibly versatile, as they are often enjoyed neat, as a vital ingredient in cocktails, or added to other beverages to give that extra flavour. They enhance many desserts too!
What Is A Fruit Liqueur?
A fruit liqueur is a distilled spirit, flavoured with a range of different fruits and generally finished with the addition of sugar or natural sweeteners. The best fruit liqueurs are usually sweeter on the palate, although some varieties have intentionally drier notes, due to added sour fruits.
How Is A Fruit Liqueur Made?
The making process is relatively simple and is usually done in two stages – macerating and distilling. Production takes typically from a few weeks to a couple of months. Although, sometimes liqueurs are left to rest for 6 to 9 months for increased flavour and depth.
How Strong Is Fruit Liqueur?
The average strength of fruit liqueur is usually around 20% ABV. However, the alcohol content tends to vary anywhere between 15 to 55% ABV depending on each distillers recipe and production process.

Top 10 Best Fruit Liqueurs
We have carefully selected ten of the best fruit liqueurs that offer incredible fruity flavour profiles. Many have hidden depth and introduce a variety of delicate herbs and spices.
1. Gabriel Boudier Crème de Cassis de Dijon
Overview
Distiller: Gabriel Boudier
ABV: 20% (40 Proof)
Country: France
Colour: Deep Burgundy
Fruit: Blackcurrant
Review
The Maison Boudier was founded by Gabriel Boudoir in 1909 in Dijon. After he died in 1936, his widow sold the house to Marcel Battault who kept the trading name and later handed the business over to his son Perre Battault. The Maison Boudier remains in Battault family since, where it is successfully grown and developed, promoting the Boudier tradition.
Crème de Cassis de Dijon is the oldest drink within Gabriel Boudier's range and one of the most known. Made by the brand since 1874, the authentic flavour liqueur is produced using only the highest quality natural ingredients, with no added colourings or preservatives.
The Crème de Cassis de Dijon is made from blackcurrant extract obtained by mashing berries in 30% vol. alcohol. The highly concentrated and very acidic liquid is then balanced out by dissolving sugar directly into the cooled berry juice to create this smooth, supreme flavour liqueur.
Taste notes: Opens with a very intense, delightful aroma of succulent blackcurrant fruits. Mid-palate reveals more balance with velvety fruity notes and a strong, almost bittersweet finish.
A multiple award winner, this remarkable, exceptional quality drink is presented in a dark glass bottle featuring an original label created in 1874.
Summary
Creme de Cassis de Dijon phenomenal blackcurrant liqueur that is best served as an aperitif. It will retain its flavour and colour for unto 4 months from opening if kept refrigerated.
2. White Heron British Cassis Liqueur
Overview
Distiller: White Heron Brands
ABV: 18% (36 Proof)
Country: United Kingdom
Colour: Deep Burgundy
Fruit: Blackcurrant
Review
The history of White Heron began almost 144 years ago when in 1876 the Green family acquired the Whittern farm in rural Herefordshire. Four years later the family planted their first blackcurrants. But it was not until 1953 that the band signed their first commercial contract with Ribena.
In 2005, after 52 years of blackcurrant farming, the White Heron, now nurtured by Jo Hilditch, a daughter of Richard Green's, produced her first batch of cassis liqueur.
Crafting from carefully selected fruits, the brand uses a technique similar to winemaking, to produce a beautifully intense, fresh flavour drink.
After naturally fermenting with champagne yeast, the blackcurrant juice is mixed with a little vodka and sugar to boost and deepen the fruity flavour.
Taste notes: A slightly sharp, but surprisingly light opening, the British Cassis liqueur is perfectly balanced and subtly sweet and refreshing mid-palate. The finish is long and rich with deep notes of beautiful juicy blackcurrant fruits that complete this full-bodied, luxurious liqueur.
Summary
The Great Taste 2018 award winner, produced from homegrown, organic fruits, is a celebration of unique and vibrant flavour and the very most exquisite British blackcurrant liqueur. Very versatile and is perfect for cocktails and tastes incredible added to champagne or sparkling wine.
3. Licor 43 Cuarenta Y Tres
Overview
Distiller: Zamora Group
ABV: 31% (62 Proof)
Country: Spain
Colour: Golden
Fruit: Orange and Apple
Review
In 1946, Diego Zamora together with his brother, sister and her husband, began the exciting journey of the Diego Zamora Group. Following their hearts, passion and belief they started the production of an aromatic golden colour liquid based on the recipe invented by Diego Zamora.
Their success was so great that in a few years the company became one of the leading brands on the market and was soon recognised worldwide.
This marvellous liquid Licor 43 is produced in a small distillery in Cartagena, an area famous for Spanish liqueur. The golden fruit liqueur is made with 43 ingredients, containing Mediterranean citruses and a variety of aromatic herbs and spices. Past from generation to generation, the family recipe is strictly held in secret.
The fruit extract is produced using maceration or mashing up fruits and leaving to ferment soaked in alcohol in stainless steel tanks for up to nine months. While rested, the brew is then cooled down to -5 degrees and kept in that temperature for five days, then micro-filtered and bottled.
Taste Notes: Light, creamy and sweet, the liqueur is rich in fruity flavours of oranges and apples blended with spices and herbs. Fragrant, with sweet vanilla, cinnamon and citrus blossoms, Licor 43 displays a complex, but well-balanced palate.
This gorgeous golden-colour liquid nestles inside a lovely shape bottle. Bronze medal winner of the 2015 international wine & spirits competition.
Summary
Licor 43 is perfect for cocktails or enjoyed on its own over ice.
4. Lapponia Lakka Cloudberry Liqueur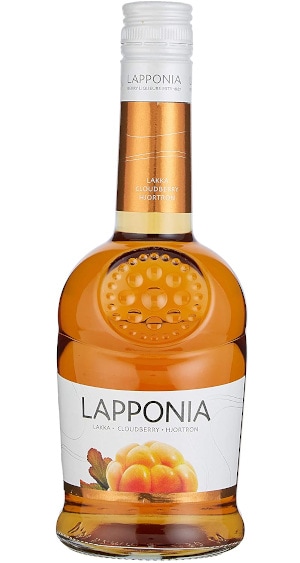 Overview
Distiller: Lapponia Liqueurs
ABV: 21% (42 Proof)
Country: Finland
Colour: Golden
Fruit: Cloudberry
Review
Lapponia Liqueurs was founded by Anders Nordfords in 1867, after being granted permission by Czar Alexander II to produce an alcoholic beverage. Located in the south-west part of the historical city Turku, dating the 13th century, the company continues hundreds of years of manufacturing tradition of Finnish berry liqueur.
Lapponia Lakka Cloudberry Liqueur is made from the rare wild cloudberry, growing in wetlands and marshes of Northern Hemisphere. Lapponia in Latin means Lapland and Lakka is the Finnish name for cloudberry.
Often called "Arctic gold", the unique flavour cloudberries are praised for their creamy, bittersweet taste.
Picked by hand pulped berries are soaked in neutral alcohol inside the oak barrels between two and six months. After the distillation, the readily produced alcohol is spiced with honey, cinnamon and cloves to intensify the flavour.
Taste notes: The Lapponia Lakka Cloudberry Liqueur has a subtle mellowness and almost floral approach to it. With the slight bitterness, the liqueur has a beautifully-delicious, creamy sweet taste of cooked fruits in cinnamon and honey syrup. The finish is full-bodied and fragrant with a unique, piquant aroma of balanced spices and fruits.
Summary
Traditionally enjoyed with a glass of chilled cordial, the Lapponia Lakka is appreciated on its own or over the ice. It is also perfect for cocktails and desserts.
5. Tequila Rose Strawberry Cream Liqueur
Overview
Distiller: Tequila Rose Distilling Company
ABV: 15% (30 Proof)
Country: USA
Colour: Pink
Fruit: Strawberry
Review
For over 20 years, the Tequila Rose Distilling Company has been producing this enticing blend of strawberry cream and tequila. The company soon gained celebrity status and is still all over social media.
Tequila Rose Strawbery Cream is a super smooth pairing of delicious strawberry cream with a cheeky kick of tequila. This self-proclaimed official drink of Girls' Nights out is becoming a worldwide phenomenon.
Although best served as a chilled shot, this liqueur can be used in everything from delicious cocktails to fancy adult milkshakes, desserts and even cakes.
Taste notes: Opens with super-sweet strawberry cream that's easy on the palate, however, the finish unleashes a warming tequila kick that adds a welcome touch of daring. Overall, a smooth and sweet strawberry cream liqueur with a splash of tequila.
Summary
Tequila Rose Strawberry Cream Liqueur is an incredibly versatile liqueur used in a variety of moreish cocktails or even enjoyed neat.
6. Prucia Plum Liqueur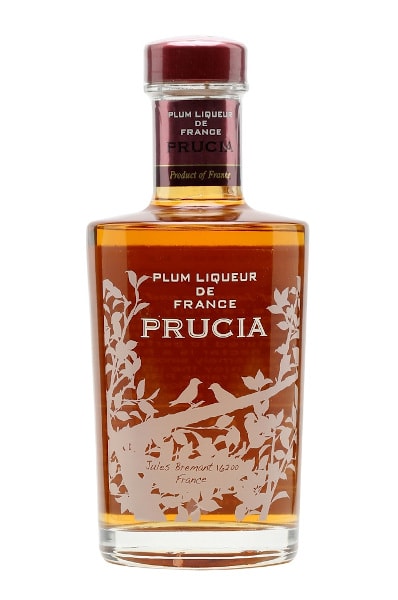 Overview
Distiller: Prucia / Isake
ABV: 15% (30 Proof)
Country: France
Colour: Rich Golden
Fruit: Plum
Review
The Prucia Plum Liqueur is developed and produced by the liqueur department of Louis Royer's at the cognac distillery in France. First founded by Louis Royer, the Cognac Brand was established in 1853. Remained in the family until 1989, the brand was passed onto XO Cognac which later joined the Suntory family, where it remains.
The Prucia Plum Liqueur is made from locally sourced, and hand-picked Japanese native Golden Ume plums grown in Moissac, Southern France. It was inspired by the French tradition to preserve plums in wine and spirits.
This delicious drink is produced by macerating ripened plums with grape spirit. After storing in the tanks for several months, the liqueur is then transferred to age to the old brandy barrels of the renowned Cognac brand "Louis Royer".
Taste notes: Perfectly matured Prucia Plum Liqueur begins with a silky smooth juicy plum flavour it has delicate hints of almond and sweet marzipan notes.
The finish is sweet and long with a very fragrant, fruity aroma.
Nicely decorated bottle depicts the picture of French nature, the home of plums.
Summary
This distinctive plum liqueur is lovely over the ice or mixed with sparkling wine or soda and champagne. It can also be enjoyed with desserts or alongside Japanese or Chinese dishes.
7. Kakuzo Cherry Bitter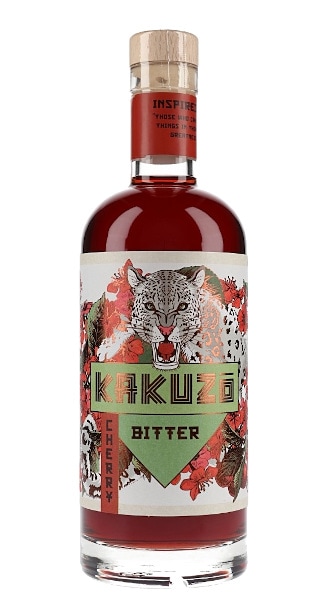 Overview
Distiller: Kakuzo
ABV: 20% (40 Proof)
Country: Germany
Colour: Burgundy
Fruit: Bitter cherry
Review
A young German brand Kakuzo was founded in 2017 by two friends, Paul and Marc. Passionate about eastern mythology as well as love for travels, the friends spotted a niche for tea-infused spirits and cocktails. After years of researching and experimenting, they came up with the recipe that sparked the idea of starting their own business.
Kakuzo Cherry Bitter liqueur is a distinctive blend of bitter cherries, grapefruit tart and aromatic gentian for a tasty cherry liqueur experience.
Fresh, ripe fruits blended with gentian and citrus tart, are matured with triple-distilled vodka produced by the distillery. The result is incredibly unique, full of character Kakuzo liqueur.
Taste notes: Smooth and fruity in taste, this sophisticated drink is very soft, yet rich with cherry flavour. The perfectly balanced bittersweet spiciness is a result of tart grapefruit peel and slightly bitter gentian.
This incredibly aromatic, burgundy colour liquid nestles inside this nice bottle decorated with cheetah character surrounded by cherry blossom.
Summary
The Kakuzo Cherry Bitter is perfect enjoyed on its own, over the ice or mixed in the cheeky cocktail.
8. Kwai Feh Lychee Liqueur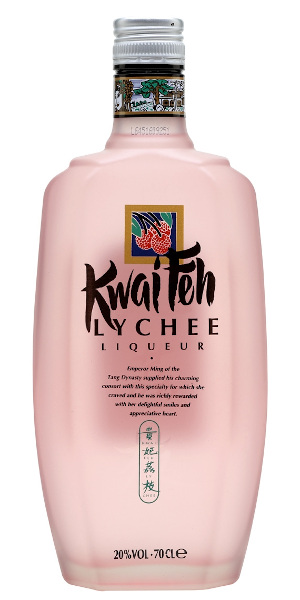 Overview
Distiller: De Kuyper Royal Distillers Shieldam
ABV: 20% (40 Proof)
Country: Netherlands
Colour: Pink
Fruit: Lychee
Review
Run by the family for nearly 325 years, De Kuyper Royal Distillers Shieldam, Netherlands, began its journey as a barrel manufacturer in 1695. Founded by Petrous de Kuyper and his wife Anna, the company's direction was changed by their third son Jan de Kuyper. He, in 1752, acquired Shieldam distillery and started gin production.
But it was not until 1920 when the company decided to make a liqueur. Over the next decade, the brand created 20 varieties of this lush drink. Today, De Kuyper Royal Distillers Shieldam is one of the world-renowned label and leading distillers of liqueurs.
The unique oriental flavour Kwai Feh Lychee Liqueur was inspired by the beautiful love story between Kwai Feh and Emperor Ming of the Tang dynasty, who travelled 600 miles to bring his lady her favourite fruit.
This well-balanced liqueur is made from the fresh lychee fruit juice macerated in neutral alcohol for up to 9 months, producing a delicate, gorgeous pink colour liquid.
Taste notes: A sweet and sour palate of fruits, orange zest and hints of tea, opens into a light, subtle sweet lychee flavour. The fruity aroma in this blend, intertwined with the fragrant floral notes of rose, finishes with a freshness of citruses and a gentle aroma of tea.
Summary
This floral, sweet-tasting liqueur is perfect for any occasion. It is absolutely incredible enjoyed on its own or mixed in cocktails, champagne or sparkling wine.
9. Chambord Black Raspberry Liqueur
Overview
Distiller: Chambord
ABV: 16.5% (33 Proof)
Country: France
Colour: Burgundy Red
Fruit: Black raspberry
Review
The story goes that the first raspberry liqueur made in the late 1600s in the Loire Valley was introduced to Louis XIV on his visit to the château de Chambord. Back in the day, fine drinks such as liqueurs and cognacs were favoured accomplices with elegant dishes.
Inspired by the story, Chambord, established in 1982, created an outstanding quality liqueur, beautifully representing the exceptional French heritage. The brand was later acquired and since 2006 is run by the Brown-Forman Corporation.
The world-renowned Black Raspberry Liqueur is made from the choicest blackberry and raspberry fruits. The freshly crushed berries are infused with the alcohol and left to macerate for about six weeks. The fruit is then pressed to extract the natural juices and sugars and blended with the finest French XO cognac. Madagascar vanilla, citrus peel and honey are added to the mix which is left to sit to absorb the flavours, creating a delicious black raspberry liqueur.
Dark, burgundy red colour liquid comes presented inside a round-shaped bottle design of which is based on the globus cruciger. The bottle, decorated in a gold-lettered ribbon across the middle, is topped with a gold-colour cap.
Taste notes: Rich in raspberries, the liqueur delivers a bunch of delightful flavours of chocolate, tired fruits, vanilla and honey. Warm and velvety, it gives lovely blackcurrant, cherry-like aftertaste.
Summary
This aromatic elixir is fragrant with fruity notes, hints of vanilla and rum scent. Chambord Black Raspberry Liqueur is absolutely delightful in cocktails and poured in champagne, or it can be used as a topping in various desserts.
10. Midori Melon Liquor
Overview
Distiller: Midori
ABV: 20% (40 Proof)
Country: Japan
Colour: Emerald Green
Fruit: Melon
Review
Created by bartenders for bartenders; this vibrant colour Japanese liqueur was inspired by the ingenious Shinjiro Torii, founder of Suntory brand. His life-long dream was to develop a colourful drink, which inspired the creation of Midori liqueur.
Japanese brewing and distilling company Suntory was founded in 1899 in Osaka and is one of the oldest alcoholic beverage companies in the country. Throughout the decades of successfully growing and expanding their business, Suntory became one of the largest distilleries in the world.
The Midori liqueur was first released in 1964 under the name of "Hermes Melon Liqueur" which was changed to "Midori" in 1978. This sensational drink is made from the juices of premium quality Japanese musk melons. This type of fruit is incredibly rare as it is only cultivated in one region in Japan, in the nutritious soil rich in volcanic ash.
The manufacturing process begins with the fermentation of pulp, mixed with neutral alcohol and sugar is left to brew for several weeks. Later the juice is extracted and blended with a high-grade spirit which is then distilled under low-pressure to harness its fresh, rich-tasting flavour.
The cane sugar and 2-year-old brandy from the cognac region in France are added to the concentrate, along with the green food colouring, to give the liqueur this unique, electric colour, matching the flesh of muskmelon.
Taste notes: Clean, candy-sweet melon flavour, but very smooth and well balanced. Pleasantly fragrant with melon flesh and the crispiness of the green apple, the liqueur gives a subtle dry finish.
Presented in a frosted, textured design bottle, reflects the surface of the melon.
Summary
A premium quality Midori Melon Liqueur is too sweet to be taken neat but is lovely with juices, spirits and other liqueurs, or mixed in a wide range of delicious cocktails.

Conclusion
Fruit liqueurs have been enjoyed by nations for hundreds of years. Centuries ago, known as cordials, liqueurs were used for medicinal purposes only. Herbal elixirs such as Benedictine or Chartreuse, blended with herbs, florals and spices, were often created by monks, well known for their alchemical abilities.
The classic fruit liqueurs of orange, cherry, and raspberry liqueurs are now joined with the incredible choice of flavoursome newcomers. Pomegranate, fig, cloudberry and melon are just a few of the new and exciting flavours that allow bartenders all around the world to experiment and create something truly spectacular.