Sake is the national drink of Japan, and is known as nihonshu which literally translates to "Japanese Liquor". The good news is that some of the best sake brands for drinking can finally be found outside of Japan.
It certainly hasn't been mainstream in the west as a whole, but that is beginning to change. These days it can be found discreetly nestling on the shelves at most bars and restaurants.
What is Sake?
Pronounced "sah-KAY", sake is a fermented rice wine with an incredibly long history. Its origins are a tad unclear because there are numerous examples of rice spirits being brewed at various times.
The earliest example of sake can be found in China. In roughly 500 BC rice liquor was know to be made through a crude process of chewing rice and nuts and spitting them into a communal tub for fermentation.
Sake, as we know it today, seems to have taken root in Japan during the Nara period (710 – 794). Until the 10th century, sake production was a government monopoly, after this point, temples and shrines began to brew their own. By 1300, sake was the most ceremonial drinks in Japan!
How is Sake Made?
Like all forms of alcohol, sake is made through a process of fermentation. Koji mould (known as the national mould of Japan) is applied to steamed rice until a white 'haze' forms.
This process takes around two days. At this point, more steamed rice and water are added along with lactic acid bacteria. This mix is fermented at 6 to 15 degrees over 3 to 4 weeks, then hey presto, you have sake.
How Strong is Sake?
Sake varies in strength but generally speaking, it ranges from 10 – 17% ABV. The most potent sake, genshu, is 22% ABV which makes it much less potent than spirits like vodka.
10 Best Sake Brands for Drinking As A Newbie
There are over 2,000 sake breweries in Japan today, and that's a lot of sake to sift through. We have compiled this fantastic list of the 10 best sake brands for drinking for someone new to the drink.
1. Gekkeikan Kome To Mizu Junmai Sake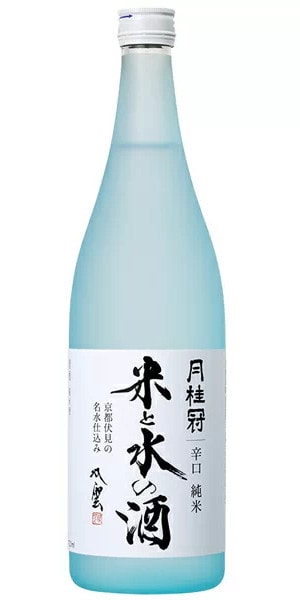 Overview
Distiller: Gekkeikan
Alcohol by Volume (ABV): 15%
Type: Junmai-shu
Country: Japan
Review
Founded in 1637, Gekkeikan is one of the oldest sake producers in the world as well as being one of the most popular (they control 25% of the American market alone). This junmai-shu sake is versatile and mellow while retaining a full-bodied flavour.
Dry and fruity, this sake is best served at room temperature or slightly chilled. A fantastic choice for beginners of sake, and an excellent addition for mixing in cocktails. Pair this with full-flavoured sushi for full effect.

2. Gekkeikan Nouvelle Tokubetsu Honjozo Sake
Overview
Distiller: Gekkeikan
Alcohol by Volume (ABV): 15%
Type: Honjozo-shu
Country: Japan
Review
Literally translating to 'Laurel Wreath' Gekkeikan is, of course, one of the most recognisable sake brands outside of Japan, and this honjozo-shu sake is one of its superior products.
As a 4 year (consecutive) winner of the Monde Selection gold medal, this outstanding full-bodied and complex sake is perfect for those with refined palettes.

3. Gekkeikan Horin Daiginjo Sake
Overview
Distiller: Gekkeikan
Alcohol by Volume (ABV): 15.5%
Type: Daiginjo-shu
Country: Japan
Review
This daiginoj-shu sake is one of Gekkeikan's most accessible sakes. By mixing pure spring water with two kinds of premium sake rice, this phenomenal sake must be tasted to be believed.
With a delicate and fruity nose and a fruity flavour, it has a smooth and creamy feel. Best served cold with mild, fragrant foods. This is a gentle introduction to sake for the curious among you.

4. Tosa Shuzo Keigetsu Yuzu Sake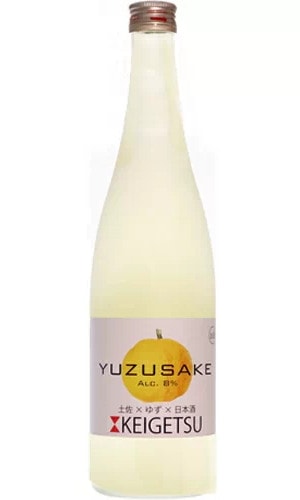 Overview
Distiller: Tosa Shuzo
Alcohol by Volume (ABV): 8%
Type: Honjozo-shu
Country: Japan
Review
The Tosa Brewing Company was first founded in 1877 and has been producing high-quality sake within their 'Keigetsu' range. Keigetsu sakes are made from organic, locally-grown rice varieties, including hinohikari rice which is table rice rather than a 'sake' rice.
This gives Keigetsu sakes a unique flavour profile. This sake has a perfectly balanced taste profile which is sweet and slightly tart by turns. Best enjoyed chilled, this is a spectacular sipping sake. One to certainly check out when you get the chance.

5. Tonoike Shuzo Sanran Junmai Sake
Overview
Distiller: Tonoike Shuzo
Alcohol by Volume (ABV): 16%
Type: Junmai-shu
Country: Japan
Review
The Tonoike Sake Brewery, which produces the Sanran Sake brand, was founded in the 16th century, making it one of the most ancient breweries in the world.
For the merchants of Tochigi Prefecture (about 100km north of Tokyo) making sake was an excellent way to add value to the rice that they bought.
Since then, they have been known for the quality and unique taste of their sake.
This traditional junmai-shu sake is sharp, full-bodied, and slightly dry. As a sweet and complex sake, this is best paired with steamed fish or yakitori chicken.
Unlike most high-quality sake this is best served at room temperature or slightly warmed. An impressively full-bodied that your tastebuds will thank you for.

6. Kasumi Tsuru Kingyo Sparkling Nigori Sake
Overview
Distiller: Kasumitsuru
Alcohol by Volume (ABV): 12%
Type: Nama-zake
Country: Japan
Review
Founded in 1725, the Kasumi Tsuru brewery is genuinely unique; they only use the Kimoto and Yamahai brewing methods. These meticulous and labour-intensive methods are overseen by master brewer Matsumoto who creates lactic acid by hand. The result is a process which is twice as long and a product of outstanding depth.
This cloudy nigori namazake is mildly carbonated, and the effect is truly stunning. The contrast between the thick, full-bodied flavour and the refreshing fizz is both unusual and stimulating.
The mellow flavour of this sake is due to the retention of some kesu which is usually filtered. To really get the sparkle out of this sake, it is best to enjoy it chilled!

7. Gekkeikan Utakata Sparkling Sake
Overview
Distiller: Gekkeikan
Alcohol by Volume (ABV): 5%
Type: Nama-zake
Country: Japan
Review
An unusual offering from Gekkeikan, this sparkling sake is somewhat of a spritzer. The light and fruity flavours have fragrant undertones which complement the light carbonation.
At just 5% ABV it is a gentle induction to sake, but hardly representative of the drink as a whole. Nonetheless, the hint of sharpness makes it a little more complicated and mature. Best served chilled, this can be enjoyed with food or by itself.
It's light as a feather so you can enjoy more than a couple in one sitting and not feel the effects the next day.

8 Gekkeikan Nouvelle Junmai Ginjo Sake
Overview
Distiller: Gekkeikan
Alcohol by Volume (ABV): 16%
Type: Junmai Ginjo
Country: Japan
Review
This high-quality pure rice wine has a distinct, fruity aroma and a robust and florid palette. There is also a rather sharp aftertaste which cuts through the complex layers of flavour to provide a clean finish.
This incredible slightly dry sake is best served chilled, though it can be enjoyed at room temperature, and should be paired with meaty foods for best effect.

9. Shotoku Shuzo Karaku Kimito Tokubetsu Junmai Sake
Overview
Distiller: Shotoku Shuzo
Alcohol by Volume (ABV): 16%
Type: Junmai
Country: Japan
Review
Founded in 1645, the Shokotu Shuzo brewery began life in Kyoto city before moving to the Fushimi district just south of Kyoto in 1925 to take advantage of its superior water.
Dedicated to making only the purest junmai-shu sake, Shotoku Shuzo uses only rice, koji, and pure Fushimi spring water in all of its sakes.
This potent, vibrant, and slightly sour this sake balances natural bitterness and acidity with a delicate sweetness that highlights the notes of peach and sour-grape that make it both complex and stimulating.
The overall result is a bold and vibrant sake which is best enjoyed either warm or at room temperature.

10. Gekkeikan Nama Sake
Overview
Distiller: Gekkeikan
Alcohol by Volume (ABV): 14%
Type: Nama-zake
Country: Japan
Review
If you notice a lot of Gekkeikan sake on this list, it's because they produce some of the most accessible and beginner-friendly sakes on the market today.
This nama sake is perhaps the flag-ship in their portfolio. It is the choice sake of the Japanese Imperial House, this unpasteurised is crystal clear and has a dry, balanced taste. Refreshing and sophisticated it can be served chilled, warmed, or at room temperature; each option reveals a new flavour.
Pairing Sake Well
Learning to pair sake with food takes time, and there is an element of personal taste to contend with (as with all things cuisine), but there are some simple rules which can help you. Firstly, the fattier a food is, the more acidic your sake should be.
The acid in alcohol helps to break up lipids and spread flavour through your mouth, so pair that fatty beef or fish with dry sake. Secondly, decide whether you want to complement or contrast food when choosing sake.
Related Article: How To Drink Sake Like A Local
If you wish to complement a dish, choose a full-bodied sake for fatty foods and a light, delicate sake for similarly light meals. For sushi or shellfish, dry junmai sake will be the perfect partner. If you want to experience an exciting contrast, then combine the two. No rule says you cannot enjoy two different sakes at the same sitting! (Don't forget there are some fantastic Japanese whiskies).