Andrew and myself decided to take a rather exciting gin tour at the Bombay Sapphire distillery in Hampshire, England. We had a lovely day and wanted to share our experience and photos with all of you gin-loving readers.
Bombay Sapphire offers several different gin tours and experiences (we will pop a link in the conclusion), we chose the 'Discovery Experience'. You can also attend a 'Gin Cocktail Masterclass', 'Creative Cocktail Experience' and more.

Bombay Sapphire Distillery
We recently took a road trip for an informative gin tour at the Bombay Sapphire distillery in Hampshire, England. Here are some quick photos and our thoughts along the way.
1. Upon Arrival
Upon arrival, parking is easy, and you simply walk between the beautiful Bombay Sapphire old mill buildings separated by a pretty stream. It was a lovely day, and several other gin lovers were enjoying a welcome G&T, both inside and outside the bar area.
2. Once Inside The Reception
Once inside the reception area, you can really take in the majesty of these old historic working buildings. We were greeted by friendly and helpful staff, and the tour started right on time.
3. Let's Enjoy Some Gin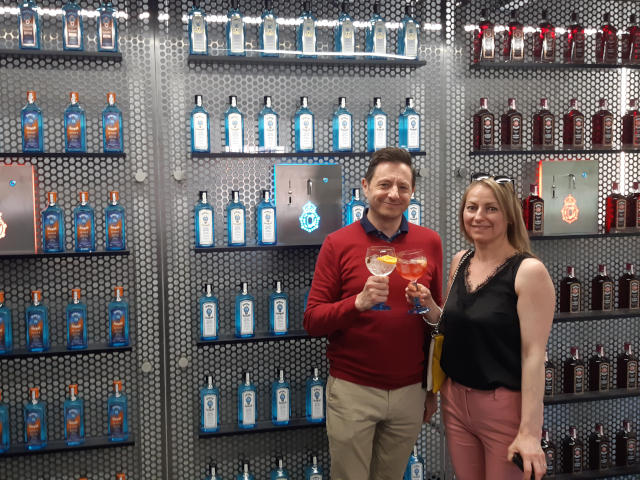 After an informative overview from our clearly very knowledgeable guide, we were welcomed into what I can only describe as 'gin heaven'. We were asked to choose a large tulip glass each, fill it with ice, and then choose a Bombay Sapphire gin from a very fancy wall dispenser.
We were then invited to add an array of flavoursome garnishes from pink pepper and star anise to good old-fashioned lemon or orange peel.
4. At The Movies
We then watched an informative short film guide of all things Bombay Sapphire in their luxurious cinema whilst sipping on our chosen G&T. I chose the Bombay Bramble, whilst Andrew chose the limited-edition Bombay Sapphire Sunset.
5. The Copper Pot Still's
Next up was a fascinating talk from our guide on the history of the old mill and the heritage of Bombay Sapphire. We even got to see the 2 large copper pot stills, Victoria & Albert.
6. The Glass Botanical Garden
The glass botanical garden, in which many types of botanicals used in the Bombay Sapphire recipe are grown, was my favourite part. This garden is a demonstration of more than just gin botanicals, there are banana trees growing too!
7. Hands-On With Botanicals
Next up; botanicals. Our guide talks us through the various botanicals used to make Bombay Sapphire, and we get to smell the delights of liquorice, star anise, lemon peel, cinnamon, peppercorns, and of course; juniper!
We then visit the actual live, working distillery, but no photography is allowed… so you will have to book a visit to see it for yourself!
8. The Shop & Bar
Finally, we make it to the shop & bar. The entire Bombay Sapphire gin range is on sale, and we made a purchase of Bombay Sapphire Citron Press to enjoy later when we got back home. We shared a huge sandwich and a soft drink each to keep us going for the journey home.
9. Drinks At Home
That evening we made our interpretation of a Limoncello Spritz with an added shot of Bombay Sapphire Citron Press for extra zest.

Conclusion
Overall we have a lovely day out at the Bombay Sapphire distillery and highly recommend taking their insightful gin 'Discover Experience' or any other Bombay Sapphire gin experience takes your fancy.
They also offer cocktail-making classes and would suggest to get the most out of it, book a place nearby to stay for the evening so you can enjoy the drinks you make without worrying about driving!

Further Reading
Below are some additional articles from The Drinks Geek blog. We write articles on several fascinating areas of drinks, including different brands, drink types, cocktail recipes and more.